ANATOMY & PHYSIOLOGY (HUMAN BIOLOGY) CERTIFICATE COURSE
(3,750 INR Only)

|| Course duration – 2 years || Certificate Validity – Lifetime || Mode – Distance education ||
Lifetime Validity Certificate/s – Assured 48 hours Delivery
Body organization | Cells | Tissues | Human Body Systems
Course provided by Medifit Education
Watch Video – Intro
---
SPECIAL FEATURES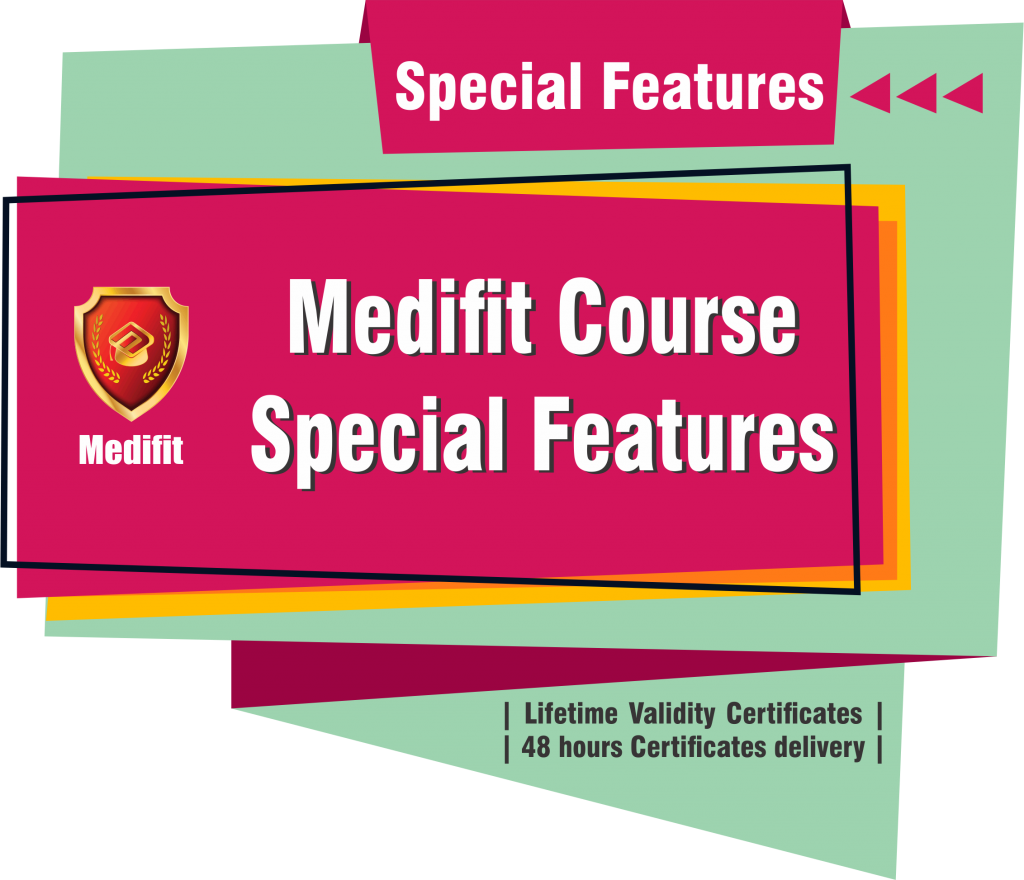 Attractive features of this course
COURSE DURATION:
Duration of this Medifit course is Dynamic 2 years. On every certificate the duration of the course mentioned is 2 years & Certificate validity is Lifetime.
SPEEDY CERTIFICATE DELIVERY:
Speedy delivery of Medifit Certificates. Student will receive the certificates in 48 hours after admission.
CERTIFICATE VALIDITY:
Validity of the all Medifit certificates is Lifetime. No need to renew the Medifit certificates in 2 or 3 years.
---
COURSE DURATION – 2 years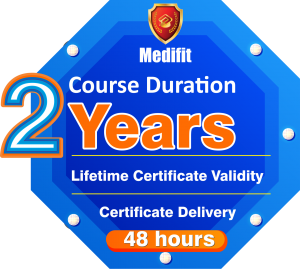 Certificate Validity: Lifetime, Course Duration: 2 years.
Duration of this Medifit course is Dynamic 2 years.
On every certificate the duration of the course mentioned is 2 years & Certificate validity is Lifetime.
COURSE Provided by Medifit Medical Academy.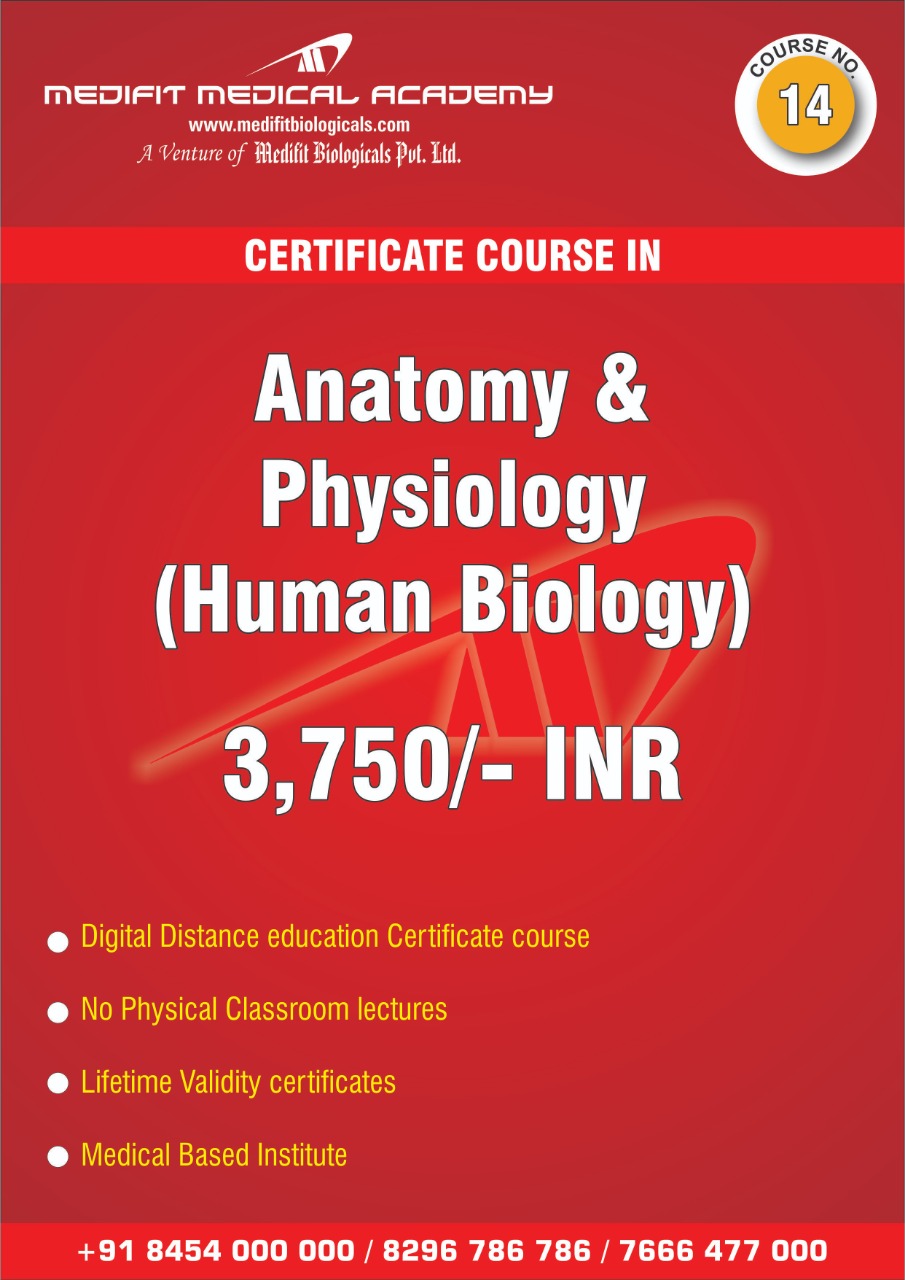 MODE: By Distance Education/ Correspondence course only.
No Lectures will be conducted for this course. Students will study at home, by the study material provided by Medifit Medical Academy.
DURATION: 2 years course duration. Certificate validity is Lifetime.
FEES: 3,750/- INR
STUDY MATERIAL: Only Digital Study Material/Manuals will be given. No physical study materials will be provided.
EXAMS: There are no exams for this course.
CERTIFICATES: 1 Lifetime Validity Certificate is given. Means no need to renew the course after 2 or 3 years. Certificate/s are awarded after completion of this course.
LEVEL – Certificate
ELIGIBILITY – No special or pre or minimum qualification required to take admission for this course.
COURSE MODULE: Completely digital course. No physical classroom lectures, no Brick & Mortar learning. All manuals & study materials provided are in completely digital format only.
PAYMENT MODE: Onetime total payment only. No installment mode permitted for this course. Total payment should be done before starting of course.
MANUAL FORMAT: All manuals or study materials of Medifit courses are in PDF (Portable Document Format) file format. To view and use the files, you need the free Acrobat Reader, which you can easily download.
Certificates & Study Materials Delivery
Assured 48 hours delivery of  Certificate/s, Videos & Pdf books.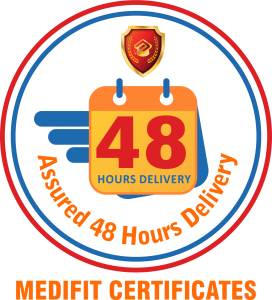 SYLLABUS/ CURRICULUM – ANATOMY & PHYSIOLOGY (HUMAN BIOLOGY) 
PART 1
ORGANIZATION OF THE BODY
CELLS
TISSUES: FOUR BASIC TYPES
THE SKELETAL SYSTEM (CHARTS AND SKELETON)
THE MUSCULAR SYSTEM
THE NERVOUS SYSTEM
PART 2
THE SENSE ORGANS
THE CIRCULATORY SYSTEM
LYMPHATIC SYSTEM
THE RESPIRATORY SYSTEM
THE DIGESTIVE SYSTEM
URINARY SYSTEM
REPRODUCTIVE SYSTEM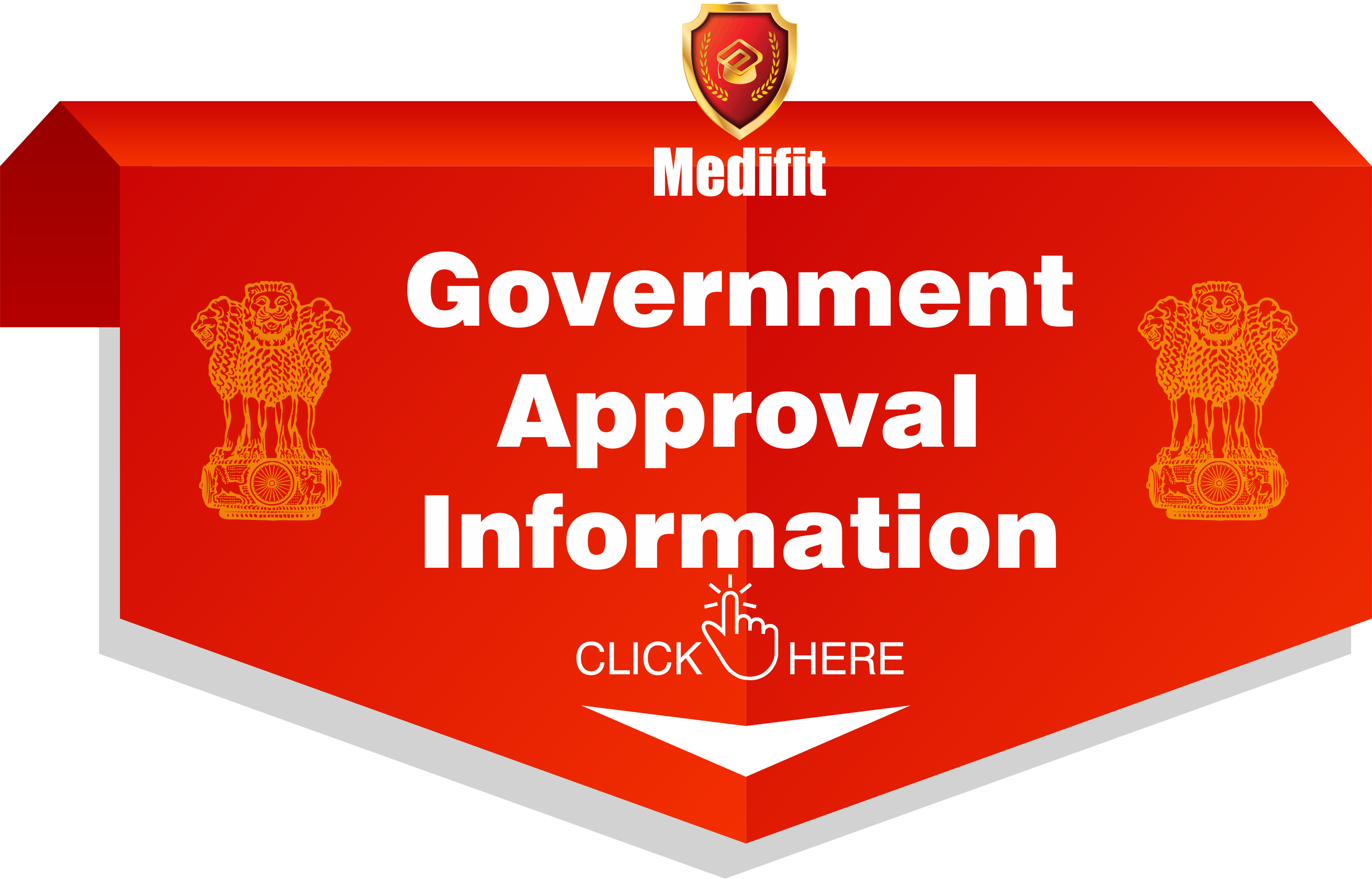 Worldwide International Acceptance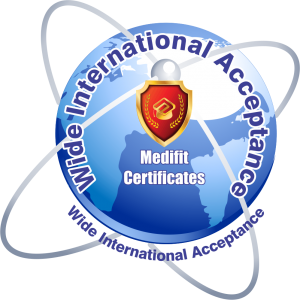 Wide International acceptance of Medifit Certificates
Go Green, Go Paperless
Go Medifit
Go Digital:
Completely Paperless technology
All Courses Study materials & Certificates are in digital format. Books in Pdf format & Certificates in Digital format only.
Students can take Print out of Certificates. We insist everyone to limit the trees cutting by doing more digital use of Certificates & study materials.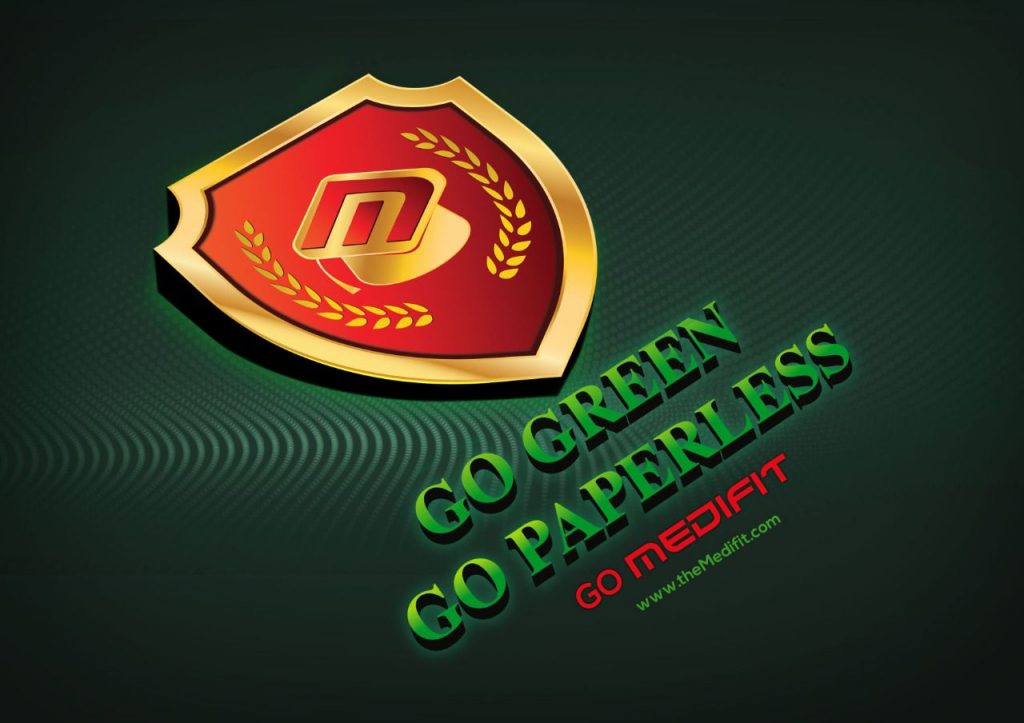 Free 10 Thousand Videos:
Free Audio Visual learning for lifetime.
Medifit has given free access to all for 10 thousand Videos of Fitness & Medical Courses to insist students to go paperless, by turning audio visual (videos learning)
DEMO CERTIFICATE
Watch Video – Medifit Certificates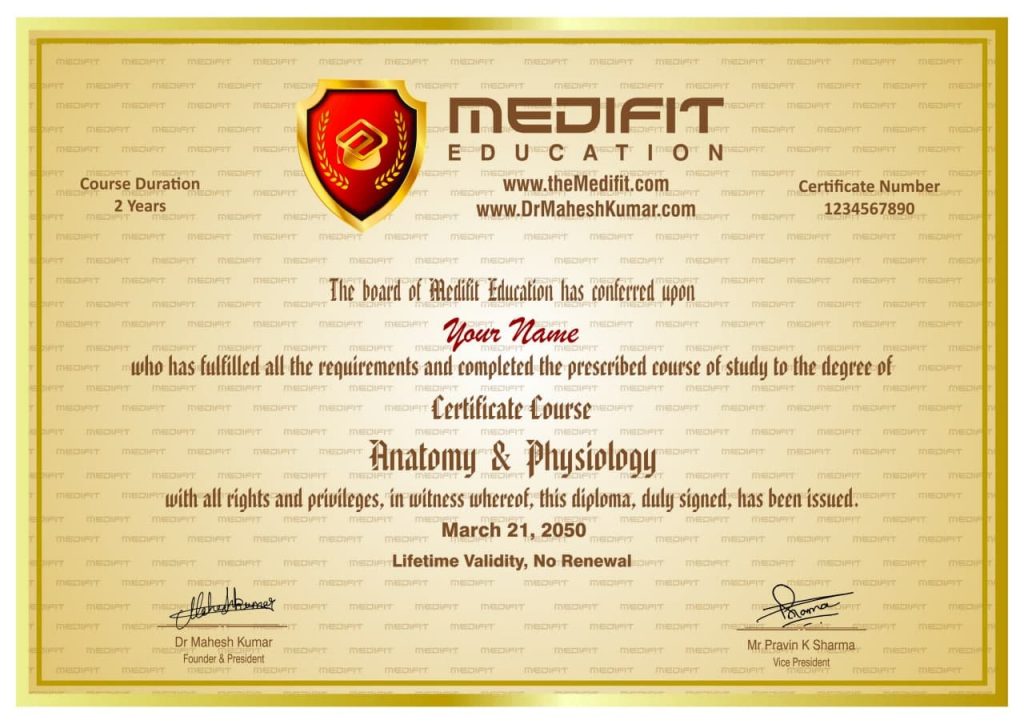 PRACTICAL & INTERNSHIP:
Do internship or practical training or assistantship of 1 year approximately with Physiotherapist or Physiologist.
Work with specialist or expert for approximately 1 year in your local area, so that you can apply the knowledge taken in course of Medifit Medical Academy.
It is the responsibility of the student to work with specialist or expert. Medifit will not arrange this work or Internship of 1 year.
---
COURSE INFORMATION (ANATOMY & PHYSIOLOGY (HUMAN BIOLOGY) CERTIFICATE COURSE)
Human anatomy is the study of the structure of the human body. Human physiology is the study of the mechanical, physical, and biochemical processes that support the body's function. Life Living organisms are made up of four levels of organization: cells, tissues, organs, and organ systems.
Anatomy is the study of the structure and relationship between body parts.
Physiology is the study of the function of body parts and the body as a whole. Some specializations within each of these sciences follow:
Gross (macroscopic) anatomy is the study of body parts visible to the naked eye, such as the heart or bones.
Histology is the study of tissues at the microscopic level.
Cytology is the study of cells at the microscopic level.
Neurophysiology is the study of how the nervous system functions.
WHAT IS THE ANATOMY AND PHYSIOLOGY OF THE HUMAN BODY?
It comprises a head, neck, trunk (which includes the thorax and abdomen), arms and hands, legs and feet. The study of the human body involves anatomy, physiology, histology and embryology. The body varies anatomically in known ways. Physiology focuses on the systems and organs of the human body and their functions.
BENEFITS OF ANATOMY AND PHYSIOLOGY
Medifit's Anatomy and Physiology Certificate course is for those who are fascinated by the science of medicine, but don't fancy becoming doctors.
In study terms, this means you'll learn about the structure of the body and how it functions? You'll gain an understanding of the causes, diagnosis and treatment of disease, and how they affect different parts of the body. You could learn how cells develop, how limbs form in the right places, and even how muscle groups are used in different sports. You may also touch on hot topics such as cell cloning, bioinformatics, genetic engineering, and perhaps even the impact of malaria or HIV on a human being.
You should walk away from a Course with an excellent knowledge of how the body works, and an understanding of the biology, genetics, immunology, pharmacology and disease processes.
Investigating some of the more high-profile – which usually means controversial – areas of this field, such as genomics or food safety, you should be able to debate the pros and cons of the issues and to articulate an argument.