CPR & FIRST AID CERTIFICATE COURSE
(7,500 INR Only)

|| Course duration – 2 years || Certificate Validity – Lifetime || Mode – Distance education ||
Lifetime Validity Certificate/s – Assured 48 hours Delivery
Watch Video – Intro
---
SPECIAL FEATURES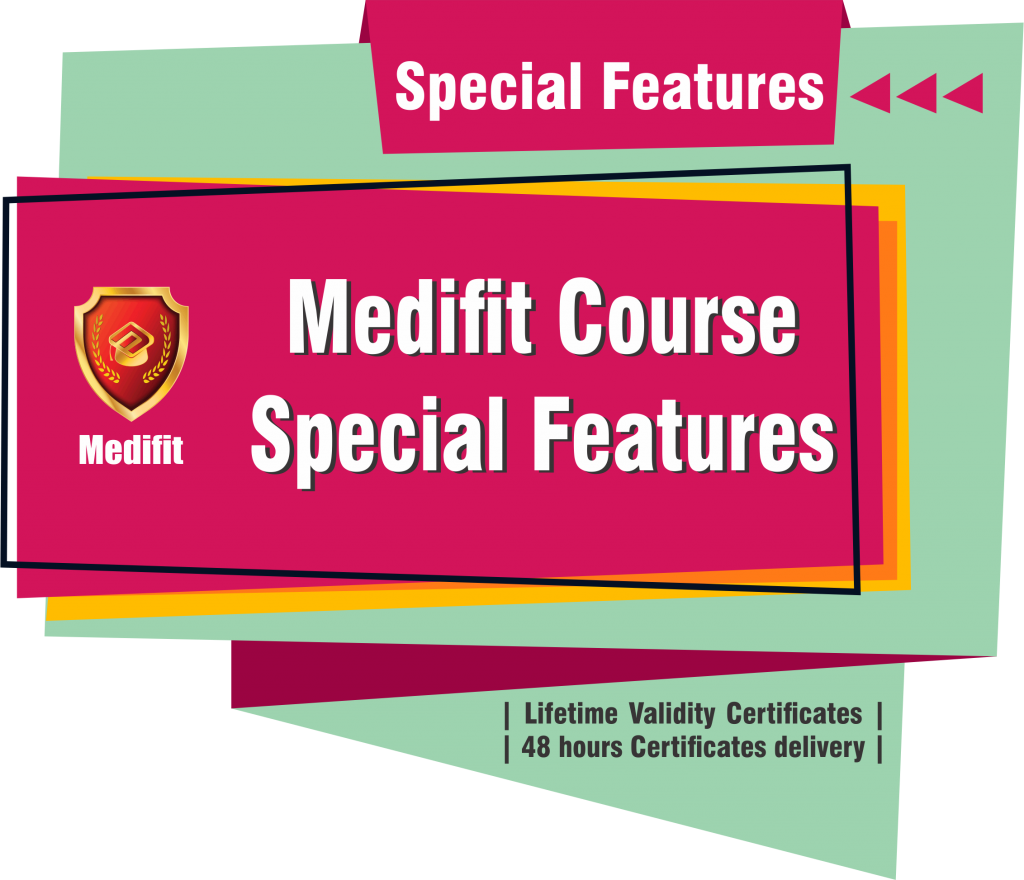 Attractive features of this course is
COURSE DURATION:
Duration of this Medifit course is Dynamic 2 years. On every certificate the duration of the course mentioned is 2 years & Certificate validity is Lifetime.
SPEEDY CERTIFICATE DELIVERY:
Speedy delivery of Medifit Certificates. Student will receive the certificates in 48 hours after admission.
CERTIFICATE VALIDITY:
Validity of the all Medifit certificates is Lifetime. No need to renew the Medifit certificates in 2 or 3 years.
---
COURSE DURATION – 2 years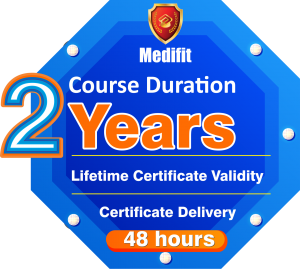 Certificate Validity: Lifetime, Course Duration: 2 years.
Duration of this Medifit course is Dynamic 2 years.
On every certificate the duration of the course mentioned is 2 years & Certificate validity is Lifetime.
MODE: By Distance Education/ Correspondence course only.
No Lectures will be conducted for this course. Students will study at home, by the study material provided by Medifit Medical Academy.
DURATION: 2 years course duration. Certificate validity is Lifetime.
FEES: 7,500 INR
STUDY MATERIAL: Only Digital Study Material/Manuals will be given. No physical study materials will be provided.
EXAMS: There are no exams for this course.
CERTIFICATES: : 1  Lifetime Validity Certificates are  given. Means no need to renew the course after 2 or 3 years. Certificate/s are awarded after completion of this course.
LEVEL : Certificate
ELIGIBILITY : No special or pre or minimum qualification required to take admission for this course.
COURSE MODULE: Completely digital course. No physical classroom lectures, no Brick & Mortar learning. All manuals & study materials provided are in completely digital format only.
PAYMENT MODE: Onetime total payment only. No installment mode permitted for this course. Total payment should be done before starting of course.
MANUAL FORMAT: All manuals or study materials of Medifit courses are in PDF (Portable Document Format) file format. To view and use the files, you need the free Acrobat Reader, which you can easily download.
PRACTICAL & INTERNSHIP:
Do internship or practical training or assistantship of 1 year approximately with Physician, Cardiologist, Emergency Medical expert or CPR expert.
Work with specialist or expert for approximately 1 year in your local area, so that you can apply the knowledge taken in course of Medifit Medical Academy.
It is the responsibility of the student to work with specialist or expert. Medifit will not arrange this work or Internship of 1 year.
Course provided by Medifit Medical Academy, Mumbai, India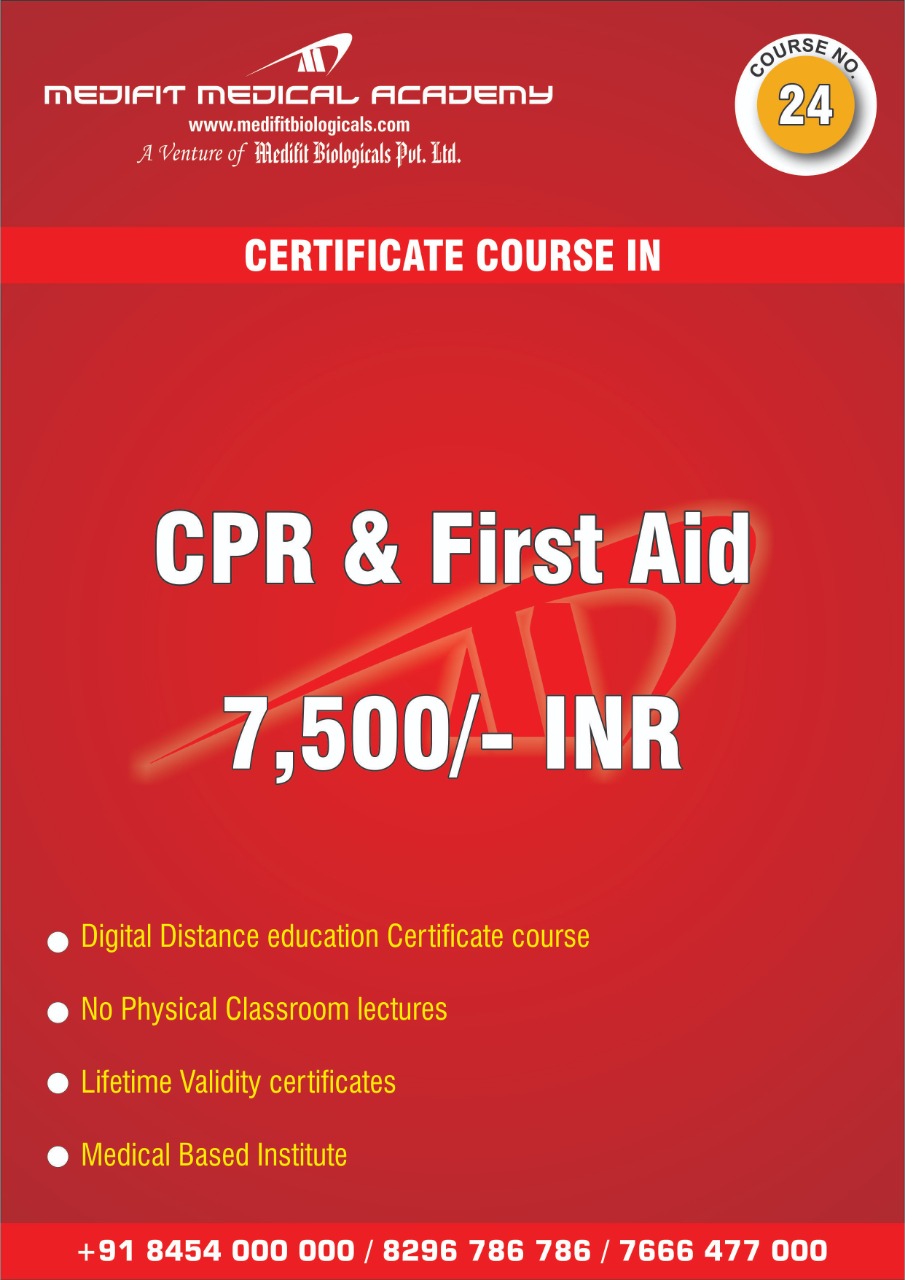 Certificates & Study Materials Delivery
Assured 48 hours delivery of Certificate/s, Videos &  Pdf books.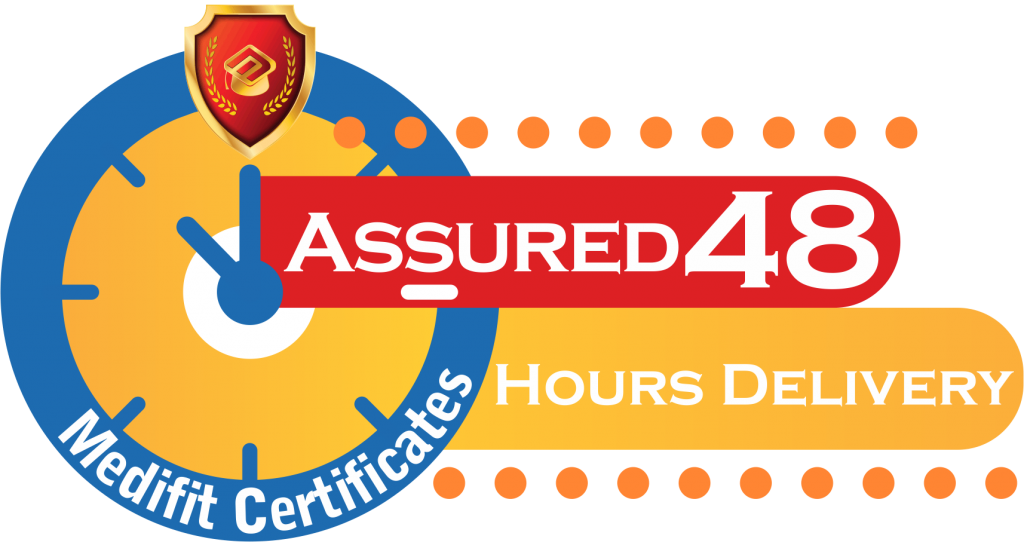 SYLLABUS/ CURRICULUM – CPR & FIRST AID 
FIRST AID
Introduction
Recognizing   and responding to emergencies to avoid infection
Basic life support
Substance abuse and misuse
Bleeding and wound care
Head, spinal, chest, abdominal injuries
Bone , joints and muscle injuries
Sudden illness: cardiac, stroke, respiratory,
Seizures, Diabetes
Poisonous Bites And Stings
Heat, cold and environmental emergencies
CPR
Introduction to CPR basic life support
Definition of CPR
Background
Breathing and circulation
Cardiac arrest
Life support
Early warning signs  of heart attack
Description
Artificial respiration
Airway
Infant and children
Accidental cases
Artificial circulation
Recognition of cardiac arrest
Steps leading to recognition cardiac arrest
Description
Head tilt
Mouth to mouth resuscitation
Mouth to nose  resuscitation
Perform jaw thrust maneuver
Principles of external cardiac compression  ECC
Techniques of  ECC
CPR technique for infant and children
Proper CPR sequence
Complications and other basic principles of CPR
Special resuscitation: drowning ,electric shock, crushed chest syndrome skill
Supplementary technique for  basic life support
Pericardial  chest thump
Foreign bodies in airway
Gastric distension
CPR for laryngectomies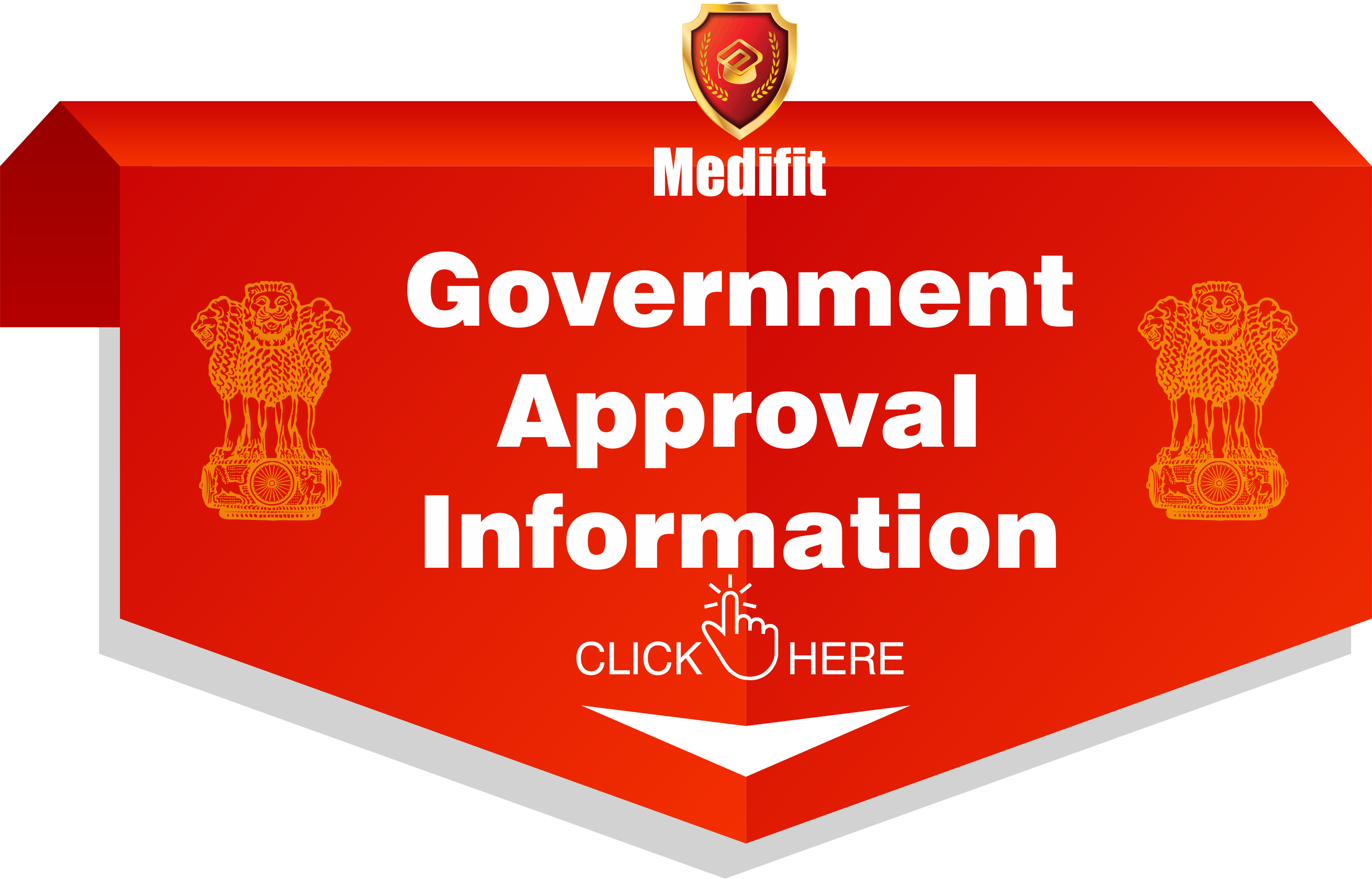 Worldwide International Acceptance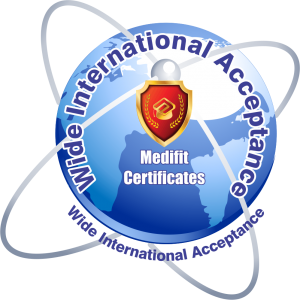 Wide International acceptance of Medifit Certificates
Go Green, Go Paperless
Go Medifit
Go Digital:
Completely Paperless technology
All Courses Study materials & Certificates are in digital format. Books in Pdf format & Certificates in Digital format only.
Students can take Print out of Certificates. We insist everyone to limit the trees cutting by doing more digital use of Certificates & study materials.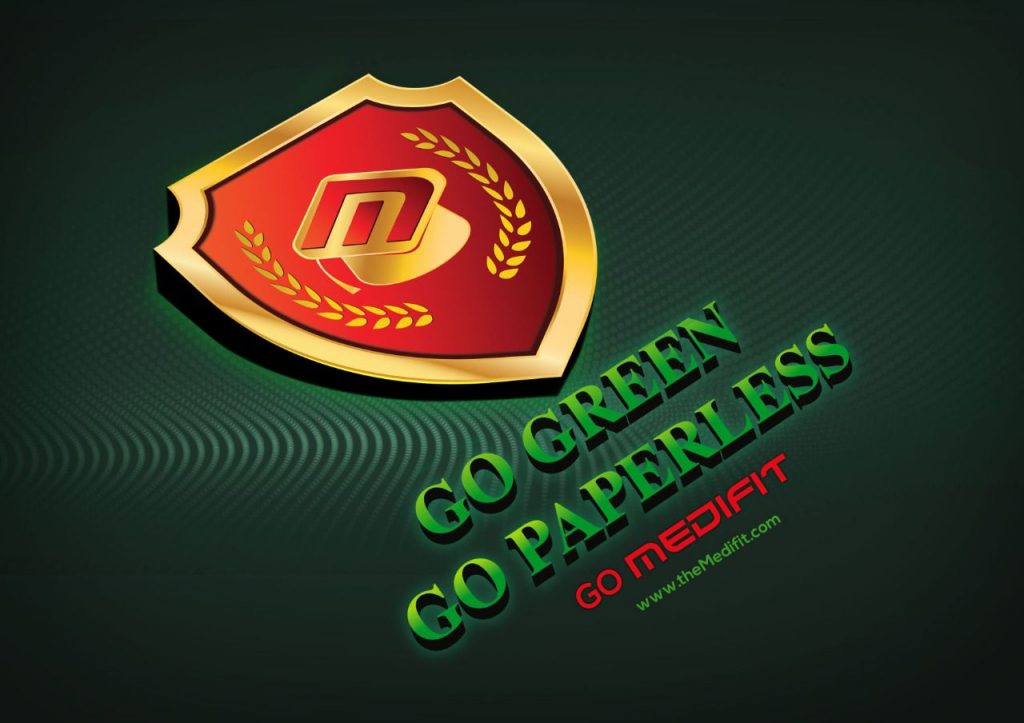 Free 10 Thousand Videos:
Free Audio Visual learning for lifetime.
Medifit has given free access to all for 10 thousand Videos of Fitness & Medical Courses to insist students to go paperless, by turning audio visual (videos learning)
DEMO CERTIFICATE
Watch Video – Medifit Certificates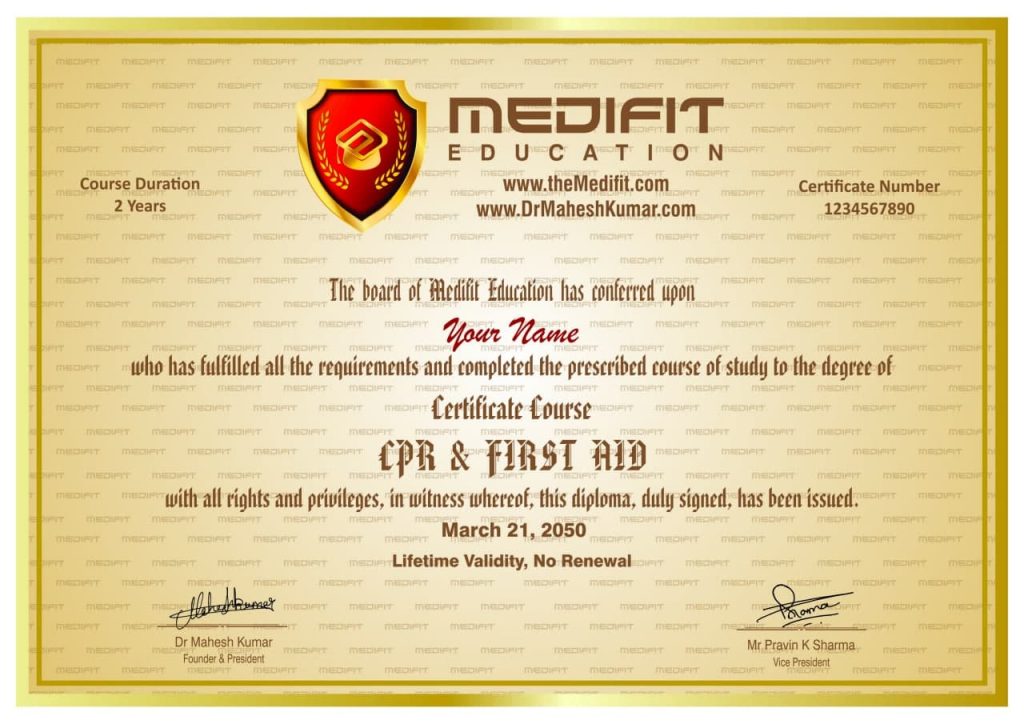 Medifit CPR & FIRST AID Course demo certificate || Course duration – 2 years || Lifetime Validity Certificate/s – Assured 48 hours Delivery