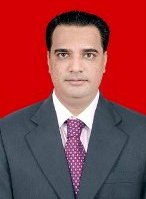 Medifit Biologicals is founded by Dr. Mahesh Kumar through nano genesis in 1998, to introduce Medical Knowledge in Fitness industry.
This dynamic step of introducing Medical science into fitness industry in India, have always attempted to focus on Medical aspects of Fitness science.
EDUCATION/ QUALIFICATION –
BAMS, M.Sc. (Nutrition), PGDM, MBA
BACHELORS DEGREE:
Major – Modern Medicine & Surgery (Integrated Medicine system).
Completed my Medical graduation BAMS from reputed R A Podar Medical College, Worli, Mumbai 18.
MASTERS DEGREE (M.Sc. Nutrition)
Major – Para medic: Nutrition (Dietetics & Food Services Management)
Completed my post graduation M.Sc. In Dietitics and Food Services Management/ Nutrition.
MANAGEMENT & BUSINESS ADMINISTRATION :
Post graduate diploma in business management/administration and a Masters in Business administration.
DESIGNATION & PROFESSION
I am a General Physician, Fitness consultant and successful Entrepreneur.
Founder & owner of Medifit group of companies, which has its wings all over India: Pan India network.
BUSINESS & PROFESSION:
I own a well settled Mumbai based enterprise Medifit Biologicals Private Limited. Medifit Biologicals is having presence all over India in more than 18 states.
With small genesis from Mumbai in 1998, I have spread the wings of Medifit to Pan India, with presence in
Gangtok & Kolkata – East India
New Delhi – North India
Indore – Central India
Bengaluru – South India
Completed BAMS degree – Bachelor of Ayurveda, Modern/ Allopathic Medicine & Surgery commonly known as Bachelor of Ayurvedic Medicine & Surgery, which is the integrated degree of modern/ Allopathic medicine and traditional Ayurveda, whose curriculum is as per guidelines of Ministry of Health and Family Welfare, Government of India & also includes studying and teaching of modern anatomy, physiology, principles of medicine, preventive and social medicine, pharmacology, toxicology, forensic medicine, ENT, Ophthalmology, principles of surgery, etc. along with Ayurvedic topics.
The aforesaid degree doctors have right to use modern medicine/ Allopathic Medicine in practice according to the privileges in the Drugs & Cosmetics Act 1940,Rules 1945 Sec 2ee(iii).
For over a decade, Dr. Mahesh Kumar worked as clinical practitioner, health supervisor and Fitness Consultant.
This rich & marathon Medical & Fitness experience of many years, has privileged to start Medical & Fitness Corporate –Medifit Biologicals.

[/cmsms_text][/cmsms_column][/cmsms_row]