ADVANCE NUTRITION & SUPPLEMENTATION CERTIFICATE COURSE 
Distance Education mode and Lectures Program, both available
Distance Education – 8,500 INR $114 USD ( 4 Certificates)

Personal Lectures – 15,500 INR $207 USD

( 4

Certificates

)

Completely Medical based
 | Nutritional supplements | Workout nutrition | Special population nutrition | Clinical supplementation | General Diet & Nutrition |
Lifetime Validity Certificate/s – Assured 48 hours Delivery
Watch Video – Intro
Diet, Nutrition, Sports Nutrition & Supplementation courses are combined into this 1 course – 4 in 1 course. (Includes Advance Diet & Nutrition)
Become a Certified Dietician, Nutritionist, Sports Nutritionist & Supplementation Specialist in just 8500 INR 
Start your Professional carrier/ Nutrition Clinic/ Consulting immediately.
8500 INR = 4 + 1 = 5 Courses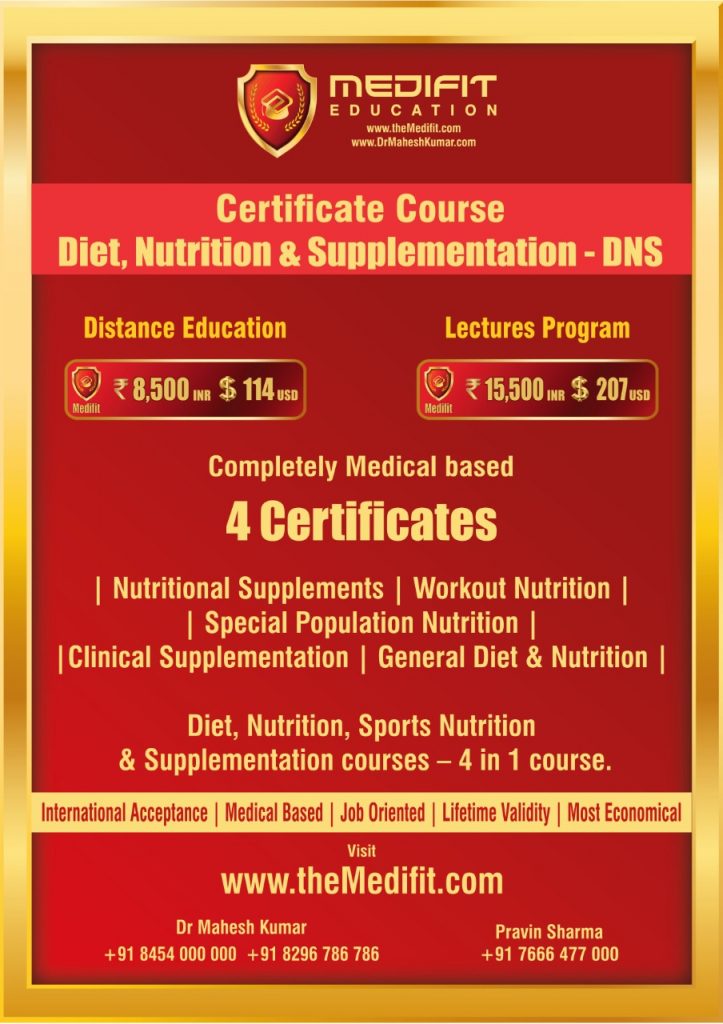 Special Features of Advance Nutrition & Supplementation Course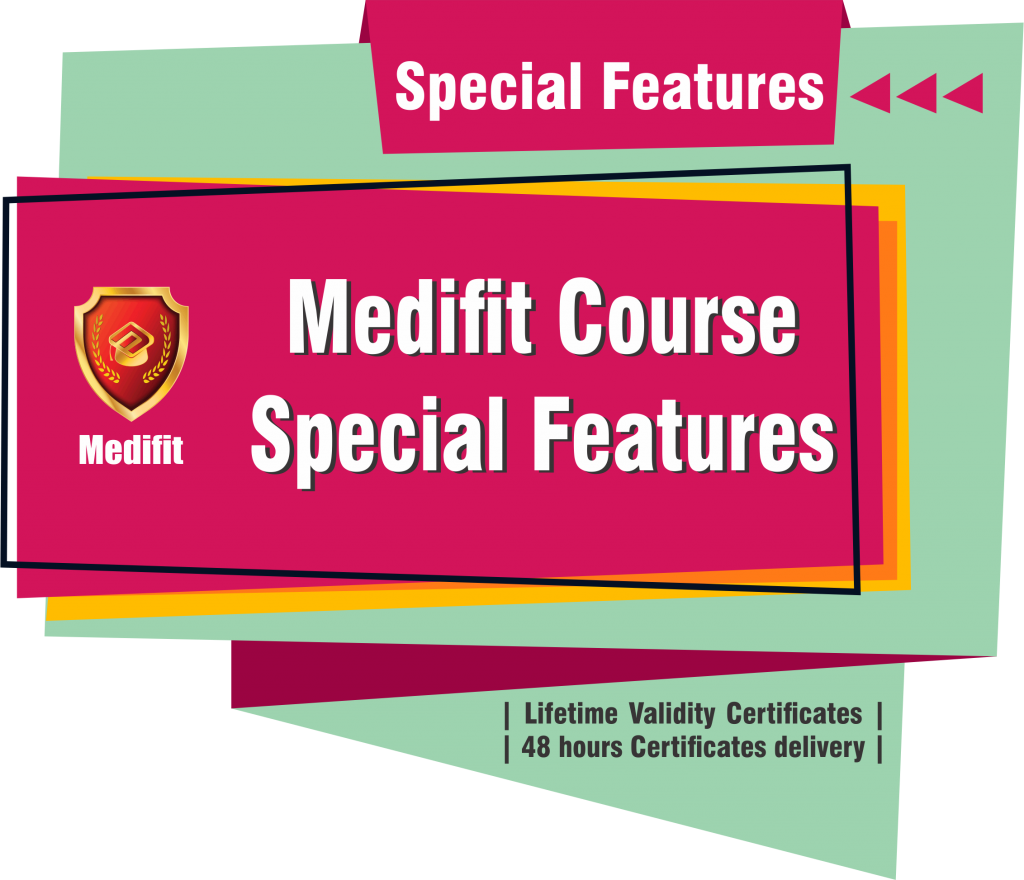 COURSE DURATION:
2 years
Certificate Validity: Lifetime, Course Duration: 2 years.
Duration of this Medifit course is Dynamic 2 years. On every certificate the duration of the course mentioned is 2 years & Certificate validity is Lifetime.
SPEEDY CERTIFICATE DELIVERY:
48 hours
Speedy delivery of Medifit Certificates. Student will receive the certificates in 48 hours after admission.
CERTIFICATE VALIDITY:
Lifetime. 
Certificate Validity: Lifetime
Validity of the all Medifit certificates is Lifetime. No need to renew the Medifit certificates in 2 or 3 years.
COURSE DURATION – 2 years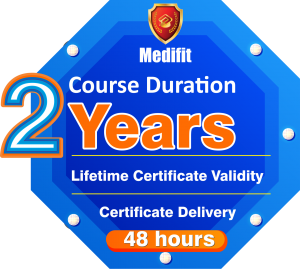 Certificate Validity: Lifetime, Course Duration: 2 years.
Duration of this Medifit course is Dynamic 2 years.
On every certificate the duration of the course mentioned is 2 years & Certificate validity is Lifetime.
COURSE Provided by Medifit Education.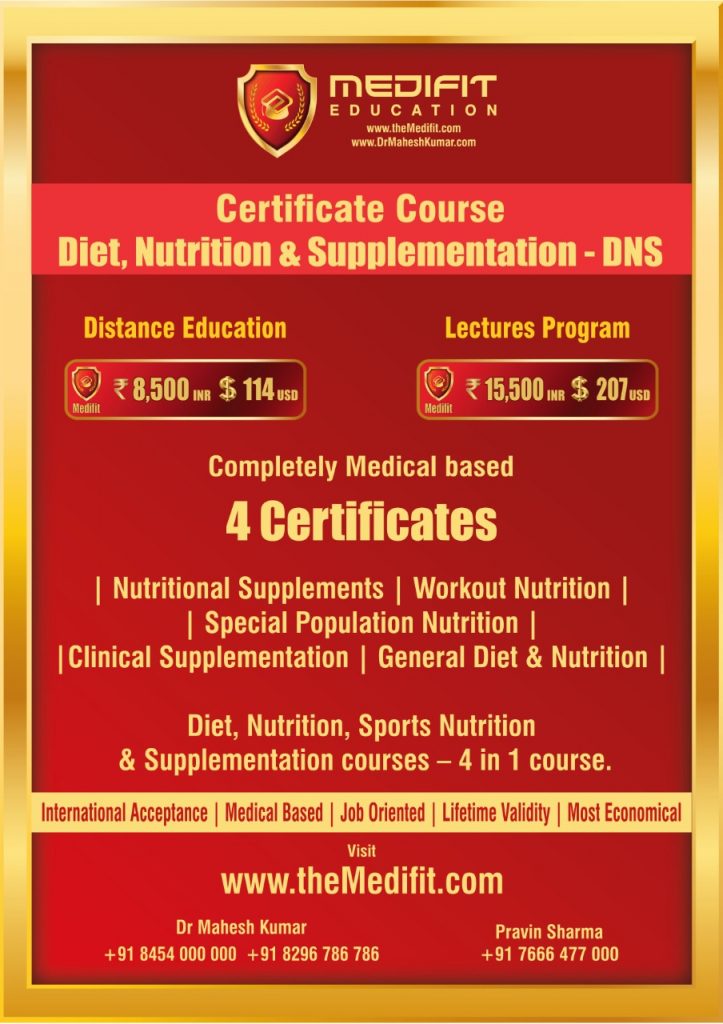 MODE: By Distance Education/ Correspondence course only.
No Lectures will be conducted for this course. Students will study at home, by the printed study material & Videos provided by Medifit Medical Academy.
DURATION: 2 years course
FEES:
Distance Education mode and Lectures Program, both available
Distance Education – 8,500 INR $114 USD ( 4 Certificates)

Personal Lectures – 15,500 INR $207 USD

( 4

Certificates)
STUDY MATERIAL: Only Digital Study Material/Manuals will be given. No physical study materials will be provided.
EXAMS: There are no exams for this course.
CERTIFICATES: 4 Lifetime Validity Certificates are given. Means no need to renew the course certificates after 2 or 3 years. Certificate/s are awarded after completion of this course.
LEVEL – Certificate
ELIGIBILITY – No special or pre or minimum qualification required to take admission for this course.
COURSE MODULE: Completely digital course. No physical classroom lectures, no Brick & Mortar learning. All manuals & study materials provided are in completely digital format only.
PAYMENT MODE: Onetime total payment only. No installment mode permitted for this course. Total payment should be done before starting of course.
MANUAL FORMAT: All manuals or study materials of Medifit courses are in PDF (Portable Document Format) file format. To view and use the files, you need the free Acrobat Reader, which you can easily download.
PRACTICAL & INTERNSHIP:
Do internship or practical training or assistantship of 1 year approximately with Nutritionist and doctor who is doing practice of Supplements.
Work with specialist or expert for approximately 1 year in your local area, so that you can apply the knowledge taken in course of Medifit Medical Academy.
It is the responsibility of the student to work with specialist or expert. Medifit will not arrange this work or Internship of 1 year.
FREE COURSE OFFER:
The hurray offer!!!!!!……….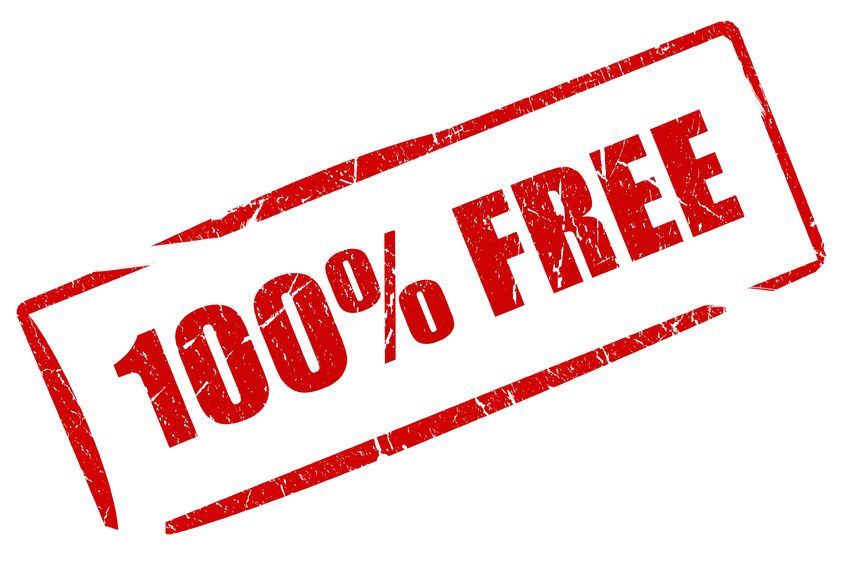 1 Course Absolutely & Completely Free.
No hidden charges & No T & C applicable.
………….!!! HurraY!!!!!……………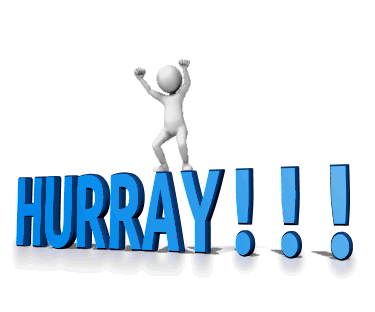 Certificates & Study Materials Delivery
Assured 48 hours delivery of Advance Nutrition & Supplementation Certificates, 2500 Videos & 100 Pdf books.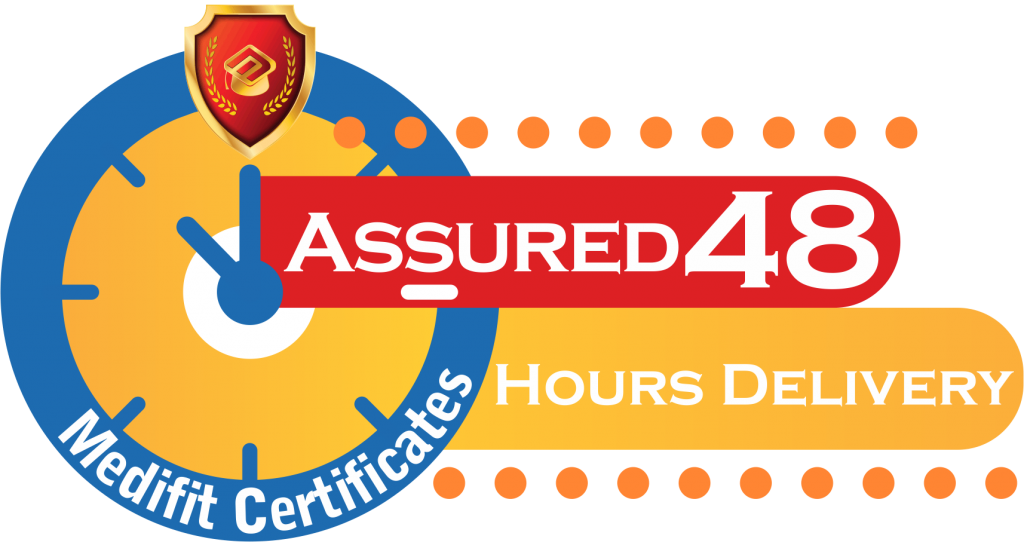 Distance Education mode and Lectures Program, both available
Distance Education – 8,500 INR $114 USD ( 4 Certificates)

Personal Lectures – 15,500 INR $207 USD

( 4 Certificates)
SYLLABUS/ CURRICULUM –
ADVANCE NUTRITION & SUPPLEMENTATION
A – NUTRITION BASICS
Basic Definitions, Body types, Six classes of Nutrients, Antioxidant, Insulin and glucagon
Info. Diabetes
B – SUPPLEMENTS 
Whey Protein Supplement, Amino Acids Supplement, B Complex Supplements, BCAA
Supplement, Creatine Supplement, Glutamine Supplement, Multivitamin Supplement, Omega-
 3 Supplement.
C – WORKOUT NUTRITION
Protein requirement according to workout, Pre workout Nutrition, During Workout Nutrition, Post workout Nutrition.
D – SPECIAL POPULATION NUTRITION
Fat loss foods list, Fat loss/Obesity Nutrition, Orlistat, Weight gain Nutrition.
E – CLINICAL SUPPLEMENTATION
Hypertension & blood pressure, High cholesterol and lipids, Heart disease, Anemia,
Pregnancy, Lactation, Arthritis, Osteoporosis, Diarrhea and vomiting, Fever, Tuberculosis,
Diabetes, for general fitness, Jaundice
Distance Education mode and Lectures Program, both available
Distance Education – 8,500 INR $114 USD ( 4 Certificates)

Personal Lectures – 15,500 INR $207 USD

( 4

Certificates)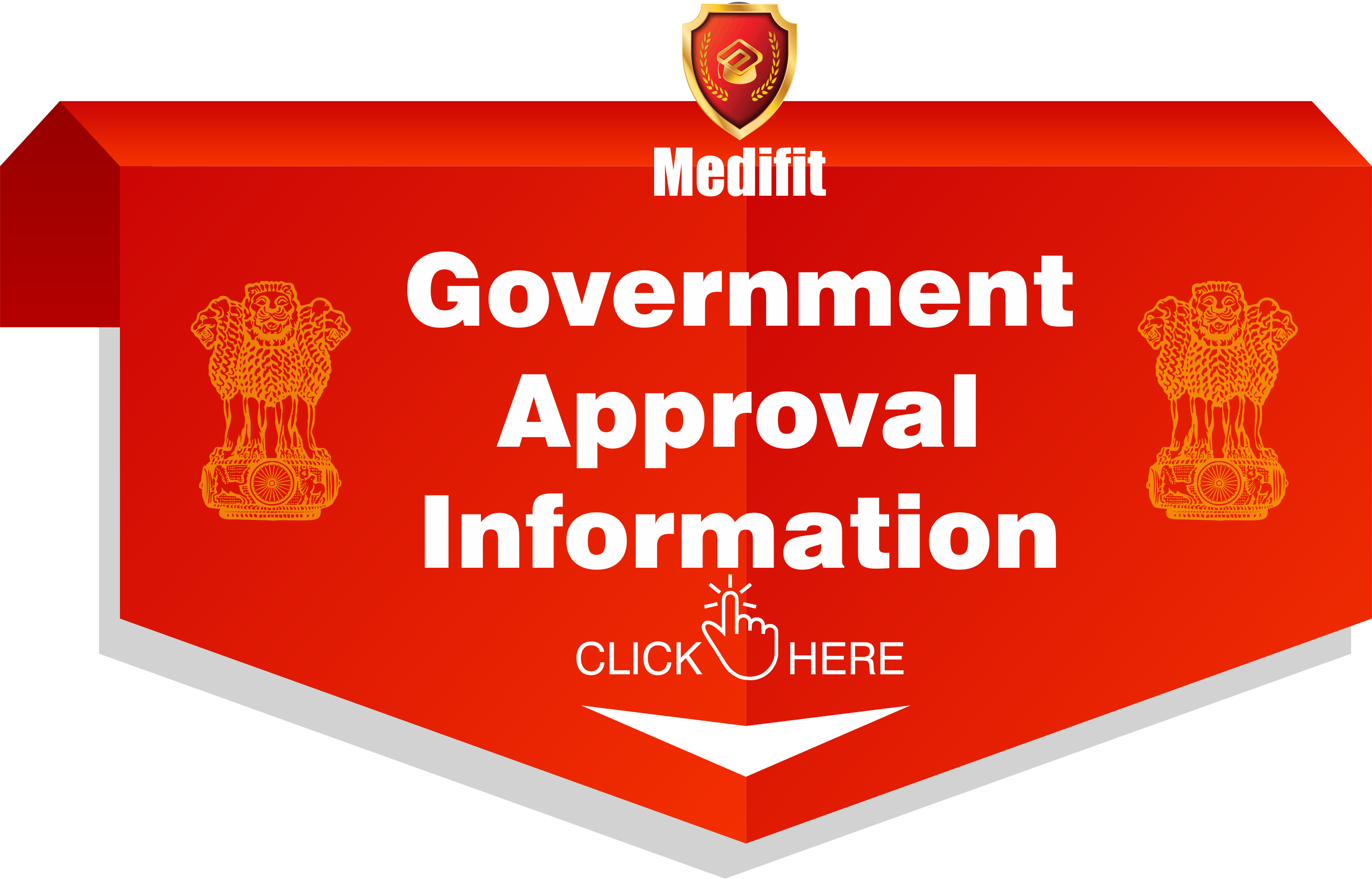 Worldwide International Acceptance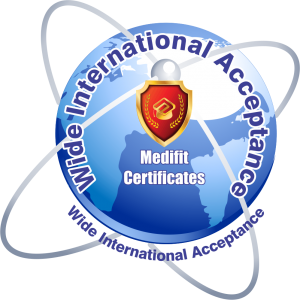 Wide International acceptance of Medifit Certificates
Go Green, Go Paperless
Go Medifit
Go Digital:
Completely Paperless technology
All Courses Study materials & Certificates are in digital format. Books in Pdf format & Certificates in Digital format only.
Students can take Print out of Certificates. We insist everyone to limit the trees cutting by doing more digital use of Certificates & study materials.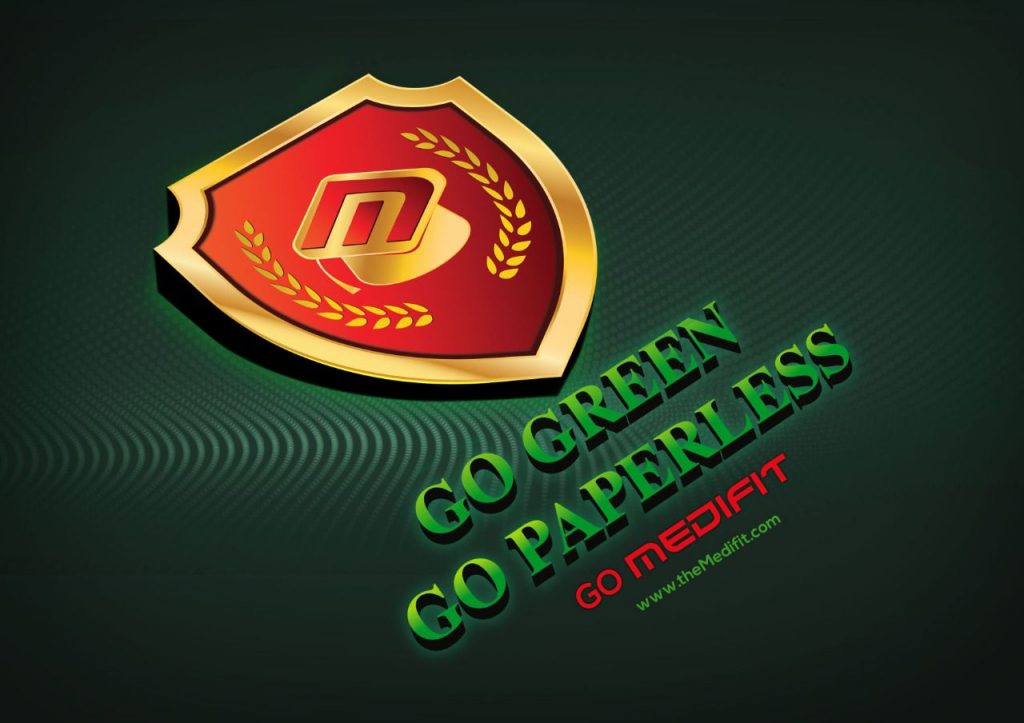 Free 10 Thousand Videos:
Free Audio Visual learning for lifetime.
Medifit has given free access to all for 10 thousand Videos of Fitness & Medical Courses to insist students to go paperless, by turning audio visual (videos learning)
Distance Education mode and Lectures Program, both available
Distance Education – 8,500 INR $114 USD ( 4 Certificates)

Personal Lectures – 15,500 INR $207 USD

( 4

Certificates)
4 DEMO CERTIFICATES
Watch Video – Medifit Certificates
Following 4 Lifetime Validity Advance nutrition & supplementation Certificates are issued by Medifit

Medifit Demo Certificate
Government of India incorporated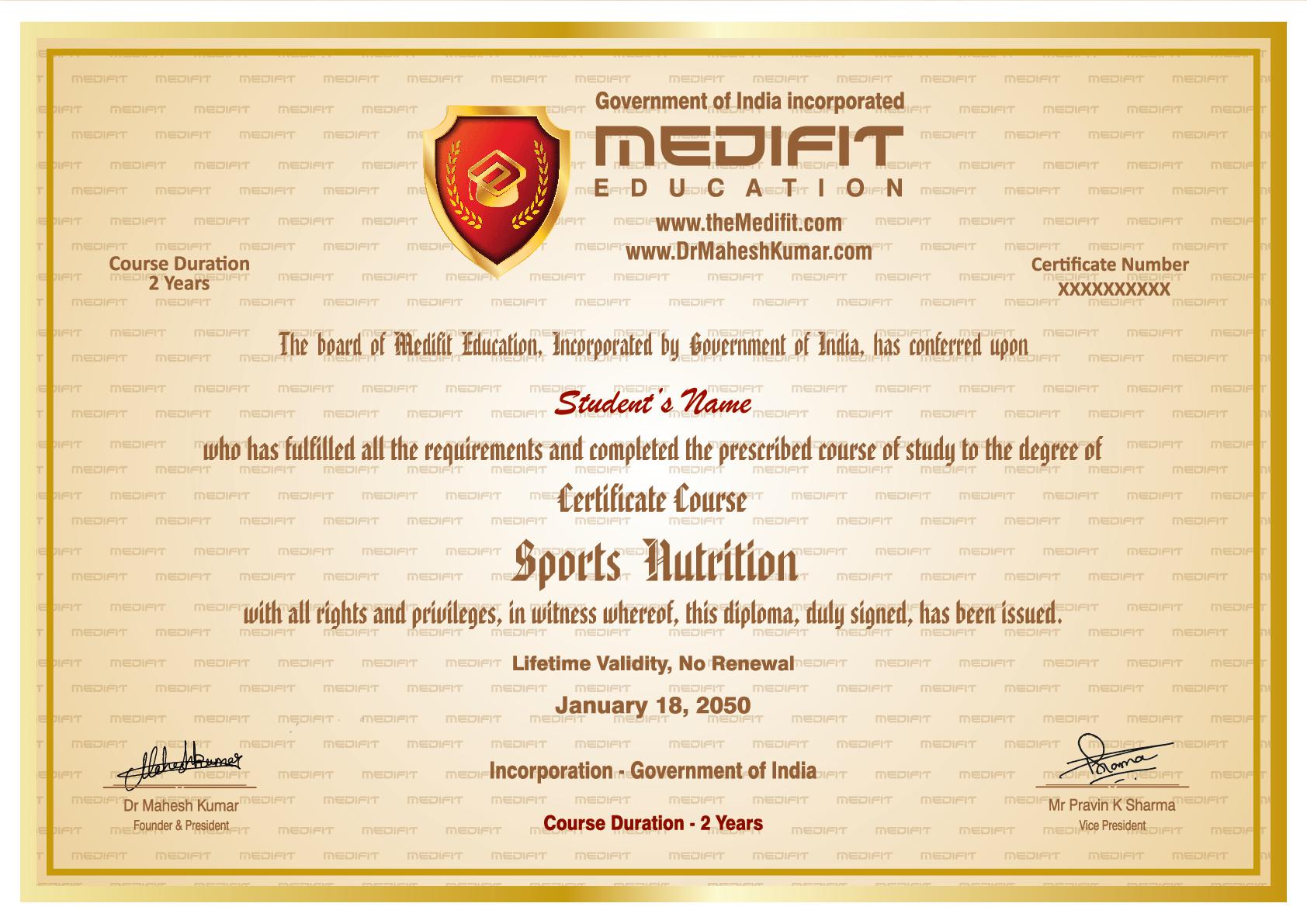 Medifit Sports Nutrition Course demo certificate || Course duration – 2 years || Lifetime Validity Certificate/s – Assured 48 hours Delivery
Medifit Certificates = Government of India Incorporated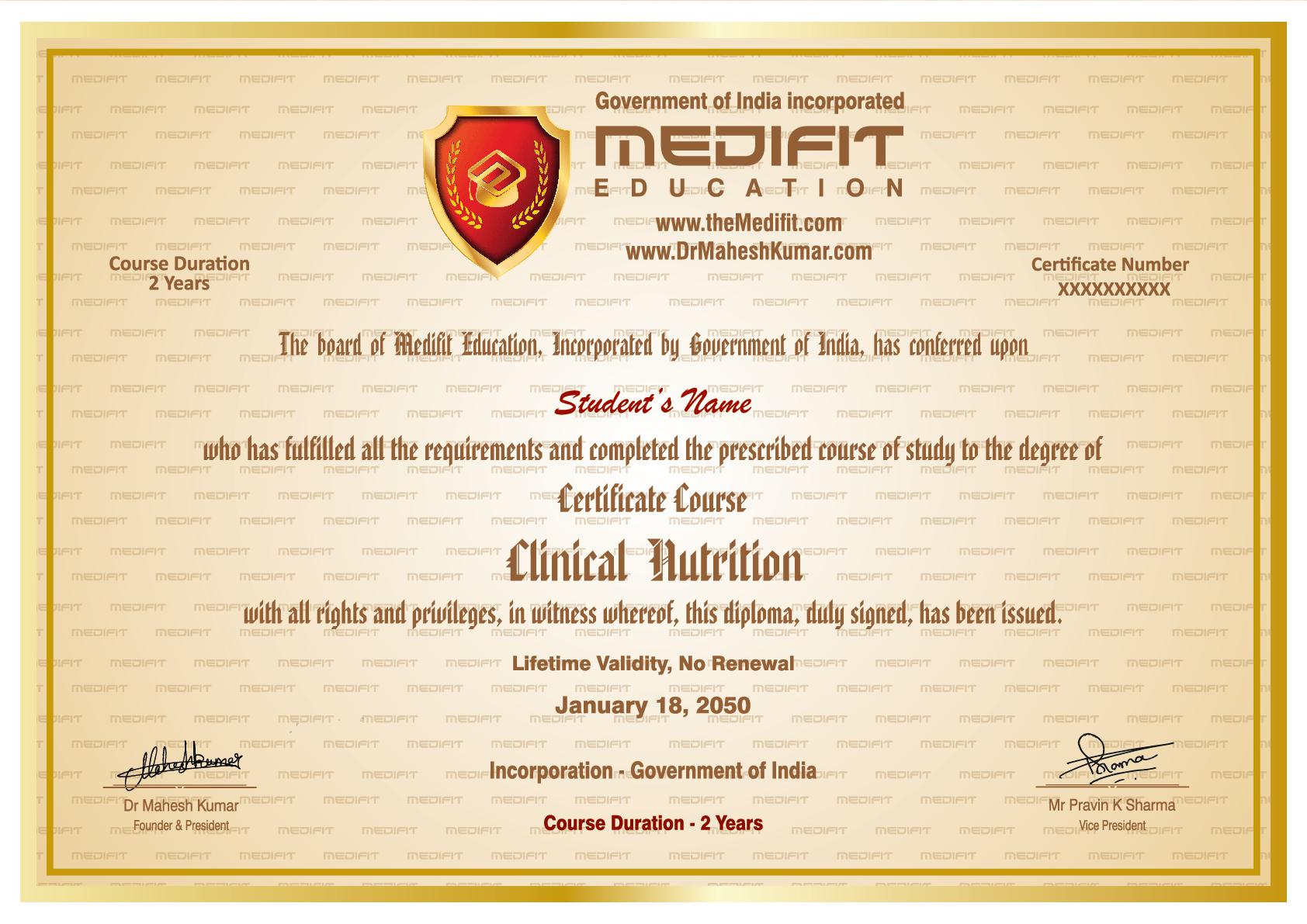 Medifit Clinical Nutrition Course demo certificate || Course duration – 2 years || Lifetime Validity Certificate/s – Assured 48 hours Delivery
Medifit Certificates = Government of India Incorporated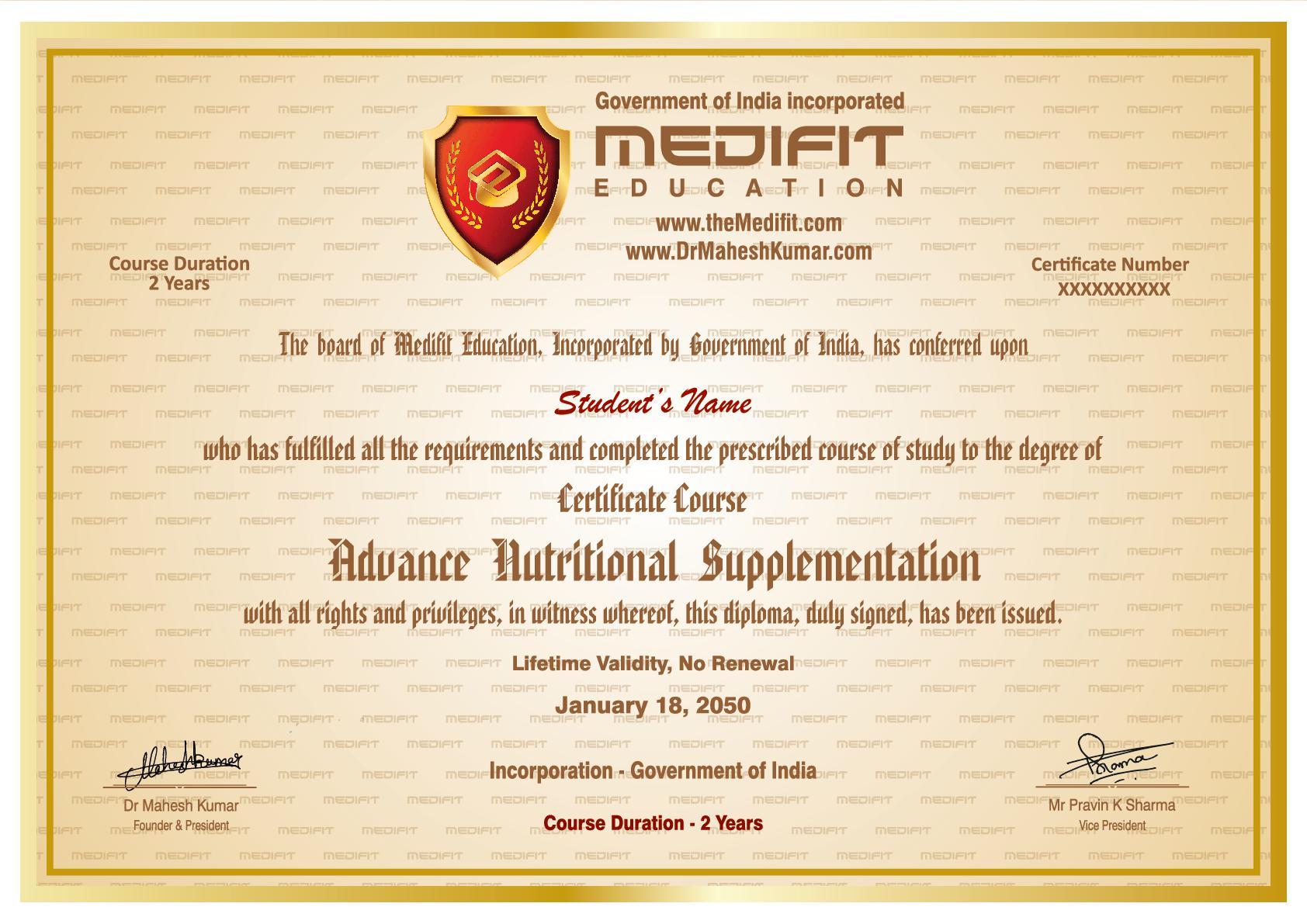 Medifit Advance Nutritional Supplementation Course demo certificate || Course duration – 2 years || Lifetime Validity Certificate/s – Assured 48 hours Delivery
Medifit Certificates = Government of India Incorporated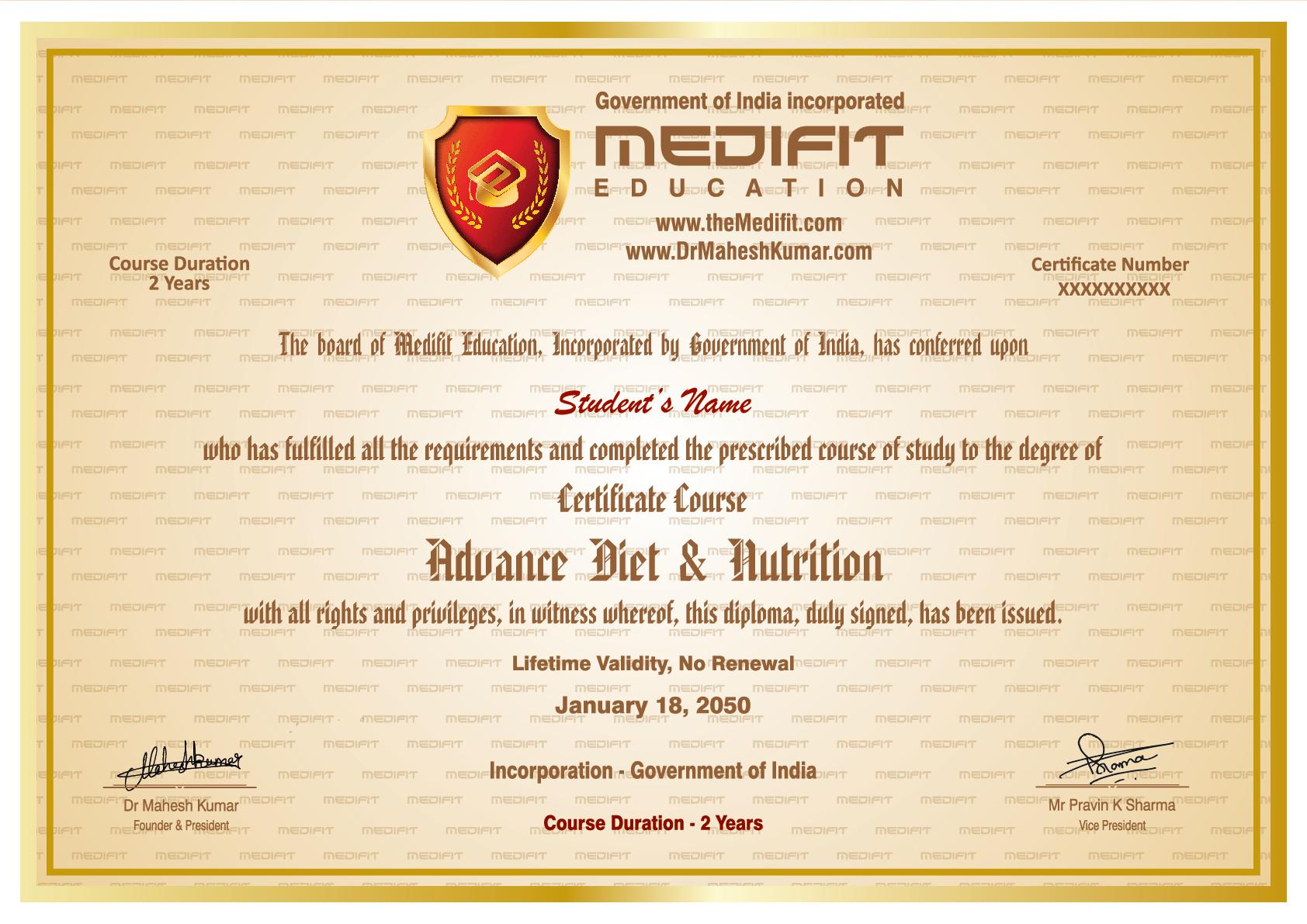 Medifit Advance Diet & Nutrition Course demo certificate || Course duration – 2 years || Lifetime Validity Certificate/s – Assured 48 hours Delivery
Medifit Certificates = Government of India Incorporated
Medifit's Supplementation and other courses are very convenient studying courses.
Means, Study from home or anywhere & anytime at your own convenience.
And at your own pace, more importantly.
No Brick & Mortar boring & traditional classroom learning.
The real charm and beauty of learning Nutrition & Supplementation is with Medifit's Convenient studying system.
Adds knowledge to your Professional carrier
Suits to working professional
Seek self-enrichment
No learning deadlines
Entirely digital course
Complete Video learning
Entirely Home study program
2500 interactive Videos provided
Lifetime learning through Videos
MEDICAL BASED COURSE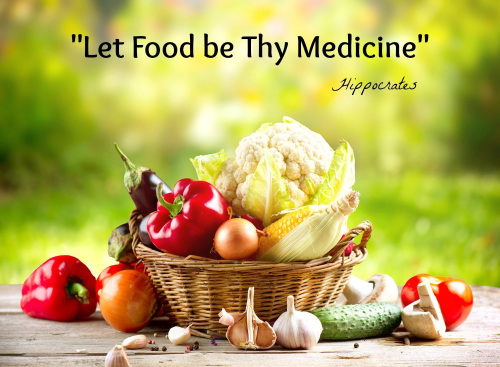 Supplementation course is completely Medical based, means its more Clinical based.
Following topics are included to make it more Clinical and Medical based –
Micronutrient Supplements
Special Population
Clinical Nutrition
Clinical Supplementation
Diseases information
Antioxidants supplements
Macronutrient Supplements for Clinical use
Along with above mentioned topics this course Medifit's course touches the following important Clinical Nutrition topics –
Nutrition Assessment, Dietetics Education, GI Nutrition and Inflammation, Education, Nutritional Genetics, Aging and Nutrition, Evidence-Based Practice, Global Nutrition, Weight Management, Diet and Chronic Disease Prevention, and other topics of interest to practitioners
Medifit's Clinical Nutrition topics
Reflects the needs of clinical practitioners who provide nutrition care to patients
Written in a concise, straightforward manner
Respond to the practical needs of professionals
Provide interpretations of research data
The specialty section on Clinical Nutrition in Medifit's Course, aims to address the relationship between disease and nutrition as well as nutritional care; topics that have been attracting increasing scientific interest within the scientific community and among clinical practitioners over the past decades. Medifit's course address metabolic and nutritional disturbances in order to advance the design, development and clinical application of nutritional support.
Medifit's ultimate object is to further progress in the growing field of Clinical Nutrition by welcoming approaches that increase our understanding and introduce new ideas in order to develop new methodologies and treatments. Medifit's Clinical Nutrition Topics are particularly suited to introduce new developments and directions in the field of nutrition overall and the specialty area on Clinical Nutrition in particular.
MOST ECONOMICAL FEE STRUCTURE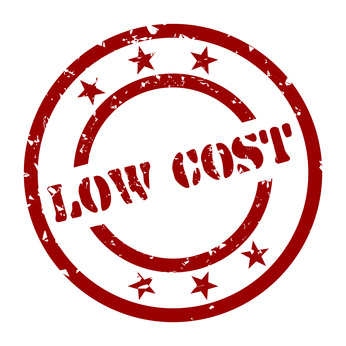 All fees are mentioned in INR – Indian Rupees, as Medifit is having base in Mumbai, India.
8500 INR for 4 following courses + 1 course absolutely Free = 5 Courses
General Diet & Nutrition
Sports Nutrition
Supplementation &
Clinical Supplementation
Means,
5 Courses = 8500 INR only.
Medifit is the best option for students who are looking for a world-class education at an affordable price.
Medifit has lowest Fee structure for courses, assuring the world's best offering for distance education courses.
If you plan or still ponder if you should pursue your Certification in Medifit, you should know that most students rated their study experience as excellent.
The main reasons were: the high standard academic environment provided by Medifit combined with student-centred learning, compared to most online course Institutes.

Medifit charge lowest tuition fees, then you probably agree that Medifit is a great choice for studying online courses.
Are you of the belief that the higher the fees you pay, the better the takeaway? Well, not really. In fact, it's the other way around if your primary focus is on getting 'value'.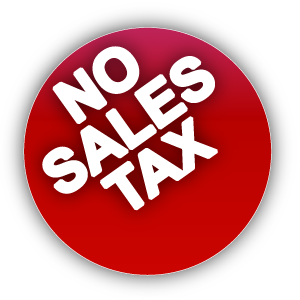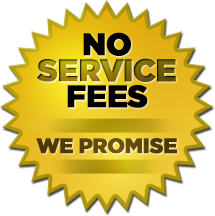 Medifit's 8500 INR for 5 courses comes with
No tax liability
No service charges
Inclusive of all charges and taxes
No hidden cost
8500 INR is the final fees students will pay to Medifit. Guaranteed no extra charges.
COMPLETE VIDEO LEARNING
Medifit is providing 2500 Videos for Nutrition & Supplementation learning. These 2500 Videos can be used by students for Lifetime study. Hence you can study these topic in Medifit throughout life, without any extra cost. All videos provided are included in Fees itself and no need to pay a single penny extra.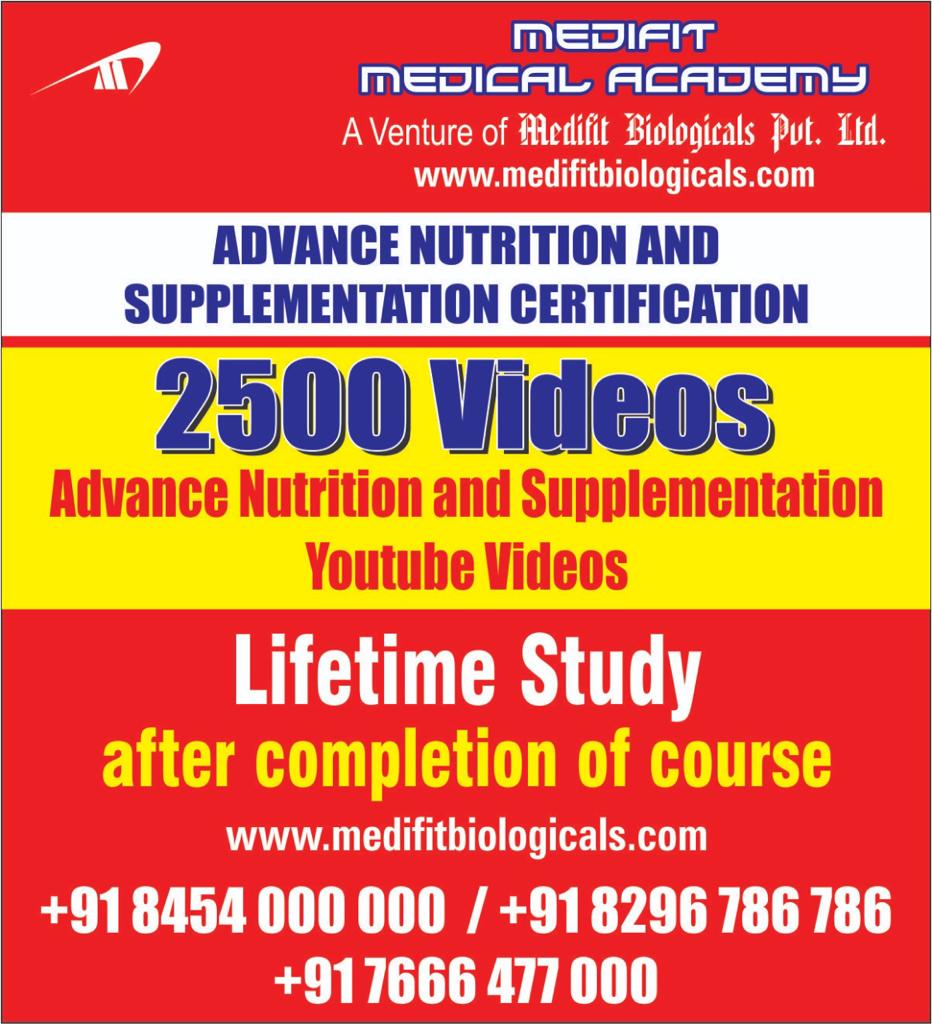 WHY TO GO FOR MEDIFITS VIDEO LEARNING PROGRAM FOR SUPPLEMENTATION COURSE?
What makes Medifits Video learning so exciting is that it allows Nutrition students to interact with the content through which they are acquiring knowledge. Long gone are the days when learners had to be subjected to an endless parade of slideshows, forcing them to digest content that wasn't presented properly in the first place. Now, there are different and enriching mediums through which you can offer the Medifits Nutrition & Supplementation content.
Medifits Video-Based Learning for Nutrition & Supplementation is one such example of a creative and interactive instructional strategy. Medifit Videos are one of the foundational tools of e-learning. They improve fitness students performance by providing visual examples, allowing them to interact, explore and digest the Nutrition & Supplementation content at their own pace. There are other benefits too.
Medifit's Lifetime Video-based learning is a widely-accepted e-learning trend, and it's gaining momentum.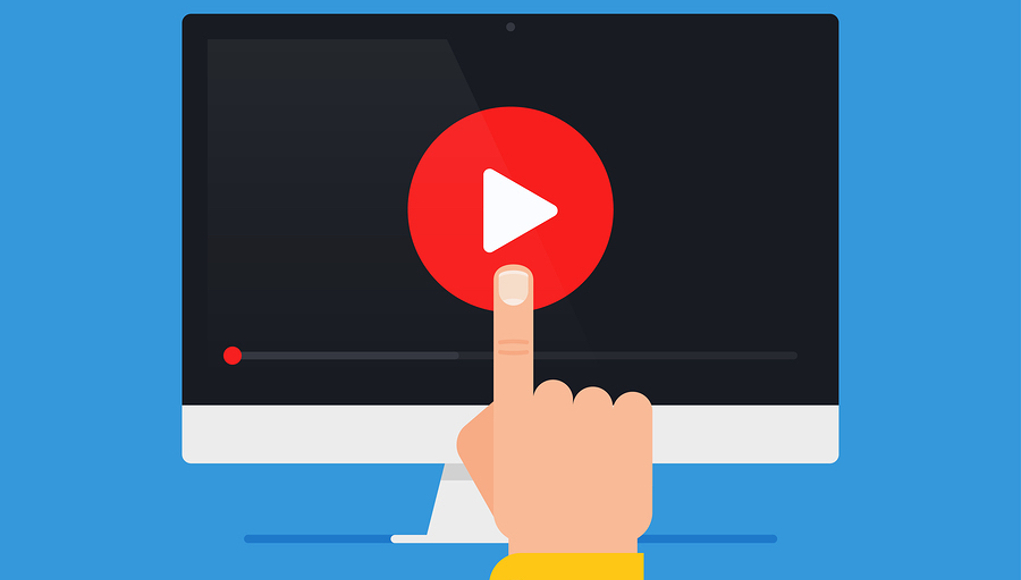 What makes it trendy now and soon a staple of learning is it's shorter, crispier and engaging nature, changing the way the students learn.
Understandably, Medifits Nutrition & Supplementation videos grabs hold students attention in a manner other medium cannot, and it's easily delivered through a learning management system (LMS). And, as Nutrition & Supplementation videos are now essential for today's generation of professional learners, there's a significant demand for Medifit video-based learning among trainers & Fitness enthusiasts.
So, is it time to expand your Nutrition & Supplementation traditional e-learning program with feature-rich videos of Medifit?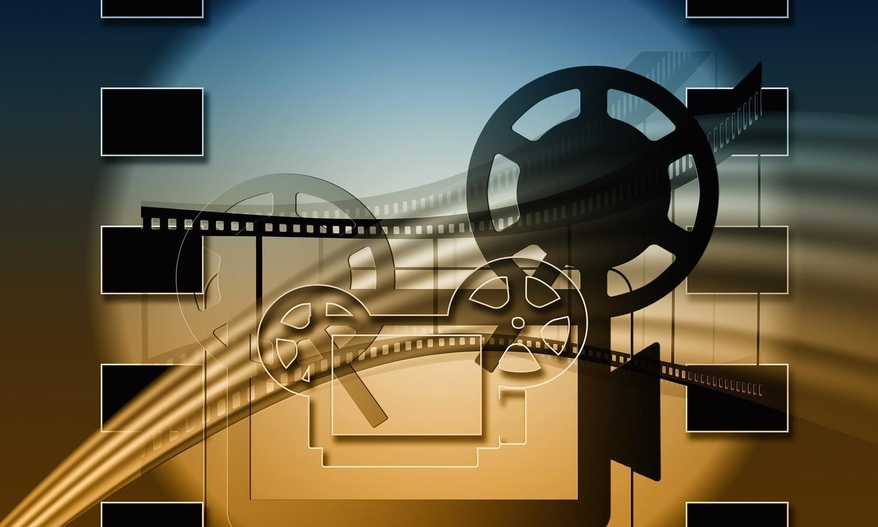 HOW FAST IS VIDEO-BASED LEARNING TAKING HOLD?
The primary reason people learn well via Medifits Nutrition & Supplementation videos is because the human brain processes videos 60,000 times faster than it does text, according to a Psychology Today article "Video vs. Text: The Brain Perspective." This realization has analysts and e-learning pundits predicting video-based learning will significantly grow. Consider:
A student is likely to remember only 10% of textual content, 65% of visual content, but 95% of audio-visual content. Hence, this Medifits Nutrition & Supplementation Video mode of learning effectively enhances self-learning and engages students attention throughout courses.
By 2019, video will be responsible for 80% of the internet traffic around the world, according to data published by International Data Corporation (IDC).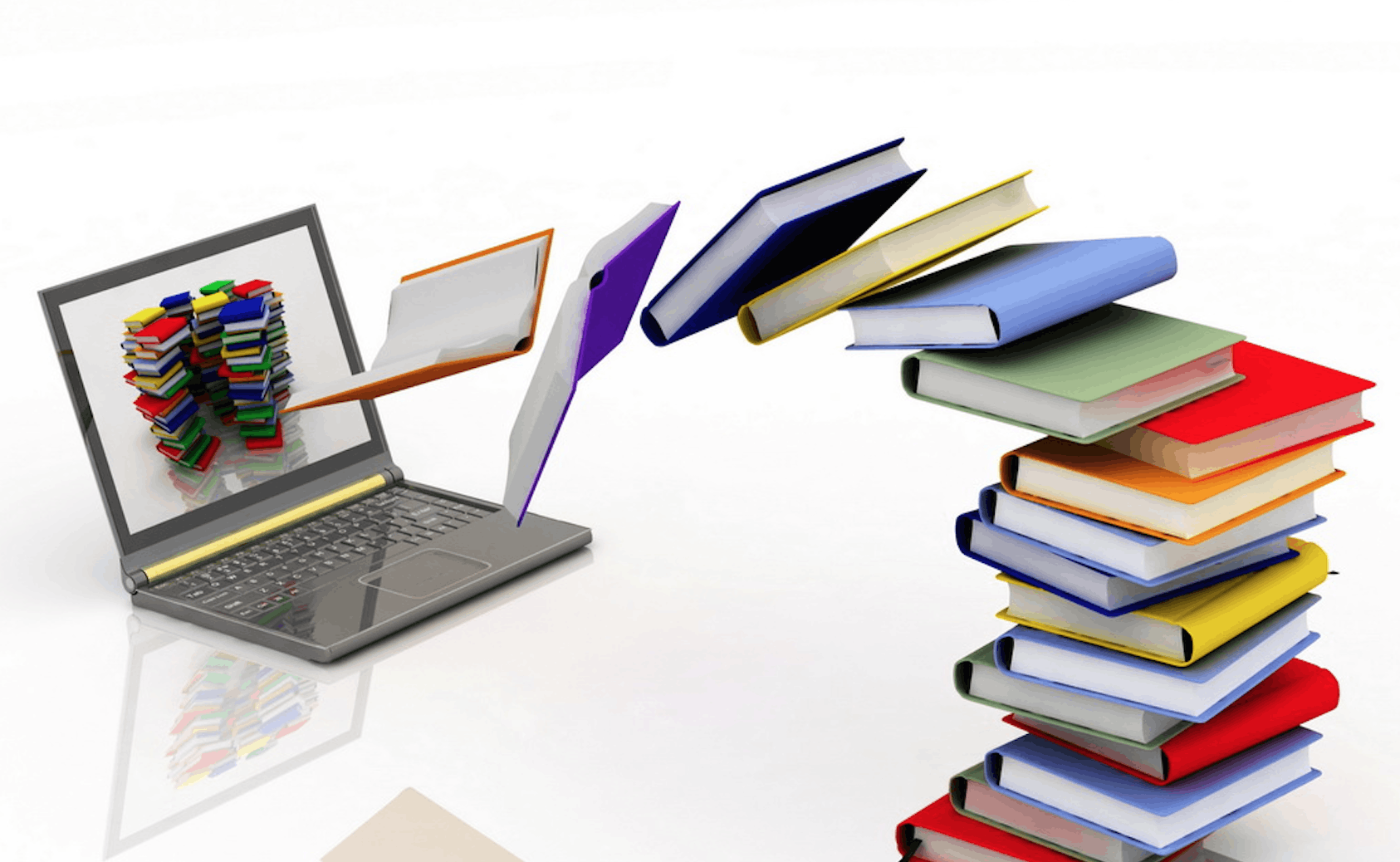 Video is no longer optional.
Medifits Nutrition & Supplementation Video-based learning is quickly becoming a basic training need. The reasons for opting into video-based learning include:
Medifits Nutrition & Supplementation Videos is more persuasive compared to other content types.
Medifits Nutrition & Supplementation Videos addresses different learning styles of visual, auditory and kinesthetic learners.
The increased usage of smartphones provides on-the-go practical & theory Nutrition & Supplementation training.
Medifits Nutrition & Supplementation Videos supports on-demand, bite-sized microlearning, teaching at the moment of need.
Medifits Nutrition & Supplementation Videos is a cost-effective solution as part of professional education and training.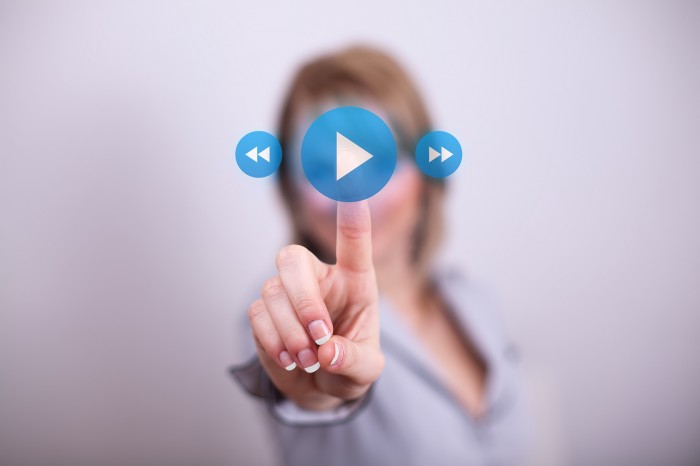 DIETICIAN
A dietitian (or dietician) is an expert in dietetics; that is, human nutrition and the regulation of diet. A dietitian alters their patient's nutrition based upon their medical condition and individual needs. Dietitians are regulated healthcare professionals licensed to assess, diagnose, and treat nutritional problems.
A registered dietitian can develop nutrition and overall wellness plans for individuals or groups. You may seek this type of nutritional counseling when dealing with specific diseases, including
Cancer
Celiac disease
Diabetes
Heart disease
High blood pressure
High cholesterol
When you meet with a registered dietitian about medical nutrition therapy, you will get an in-depth analysis of your eating habits. You should treat it like a nutritional education, meant to help you become healthier.
Your dietitian can help you create better eating habits, point out problem areas in your current diet, make science-based recommendations, and assist you in achieving your health goals.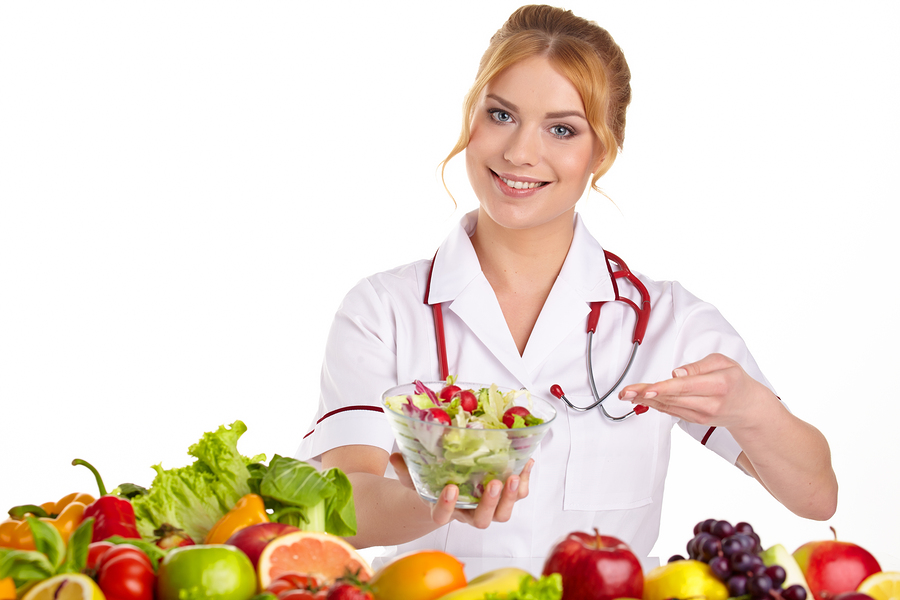 NUTRITIONIST
A nutritionist is a person who advises others on matters of food and nutrition and their impacts on human health. Some people specialize in particular areas, such as sports nutrition.
WHAT'S THE DIFFERENCE BETWEEN A DIETITIAN AND A NUTRITIONIST?
What you eat is closely linked to your risk for many diseases, and diet is an important part of recovery from many medical conditions.
Whether you're recovering from surgery or simply want to improve your daily diet, there are professionals who can help you develop an overall wellness plan. Usually, you will choose between nutritionists and registered dietitians, the two professionals who provide these consultations. It's important to know the difference before you seek advice on a healthy diet.
Although the terms are sometimes used interchangeably, there are differences between registered dietitians and nutritionists to keep in mind when you're seeking nutrition advice.
Dietitians must undergo rigorous academic and professional preparation. RDN coursework includes food systems management, nutrition, chemistry, biology, and other science, nutrition, and food systems-related courses. In addition to earning a college degree, RDNs must complete an accredited, supervised internship program. They also must pass an exam from the Commission on Dietetic Registration and, if required, receive licensure from their state. RDNs regularly engage in continuing education courses in order to maintain certification.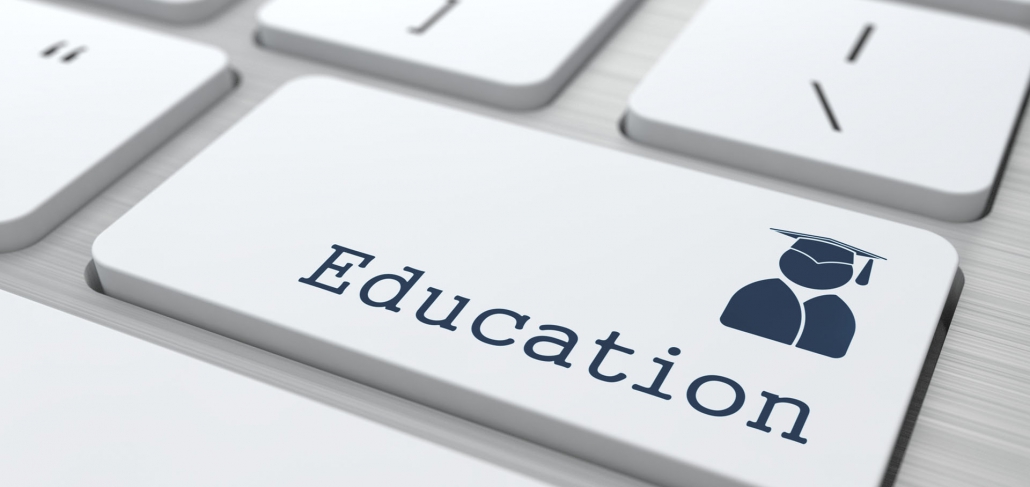 BACKGROUND OF NUTRITION EDUCATION
Advances in nutrition research have provided means of prevention and control of some of the major crippling nutritional disorder with sever socioeconomic and health repercussions. The next logical step after the discovery of such solutions will be their propagation among the concerned community members. It is here that health and nutrition education has a role to play. The emphasis in these nutrition education programs ought to be on the proper use of natural dietary sources of nutrients and the need for full use of available health services and health and nutrition intervention program launched by government and other agencies.
Medifit Medical Academy  believes that Nutrition education programs, when properly implemented, have the potential to bring out desired behavior modifications among the communities. But for them to be successful, there are several obvious prerequisites such as the right approach suited to the community appropriately, motivated change agents, suitable educational strategies in terms of media, messages, etc. The ultimate impact of any nutritional education effort hinges on the extent to which the above criteria are satisfied.
Nutrition education has been defined as the process by which beliefs, attitudes, environmental influences, and understanding about food lead to practices that are scientifically sound, practical, and consistent with individual needs and available food resources; nutrition education should be available to all individuals and families. The fundamental philosophy of nutrition education is that efforts should focus on the establishment and protection of nutritional health rather than on crisis intervention. It is needed, regardless of income, location or cultural, social or economic practices, or level of education.
Medifit Medical Academy suggests that Nutrition education must be a continuing process throughout the life cycle as new research brings additional knowledge.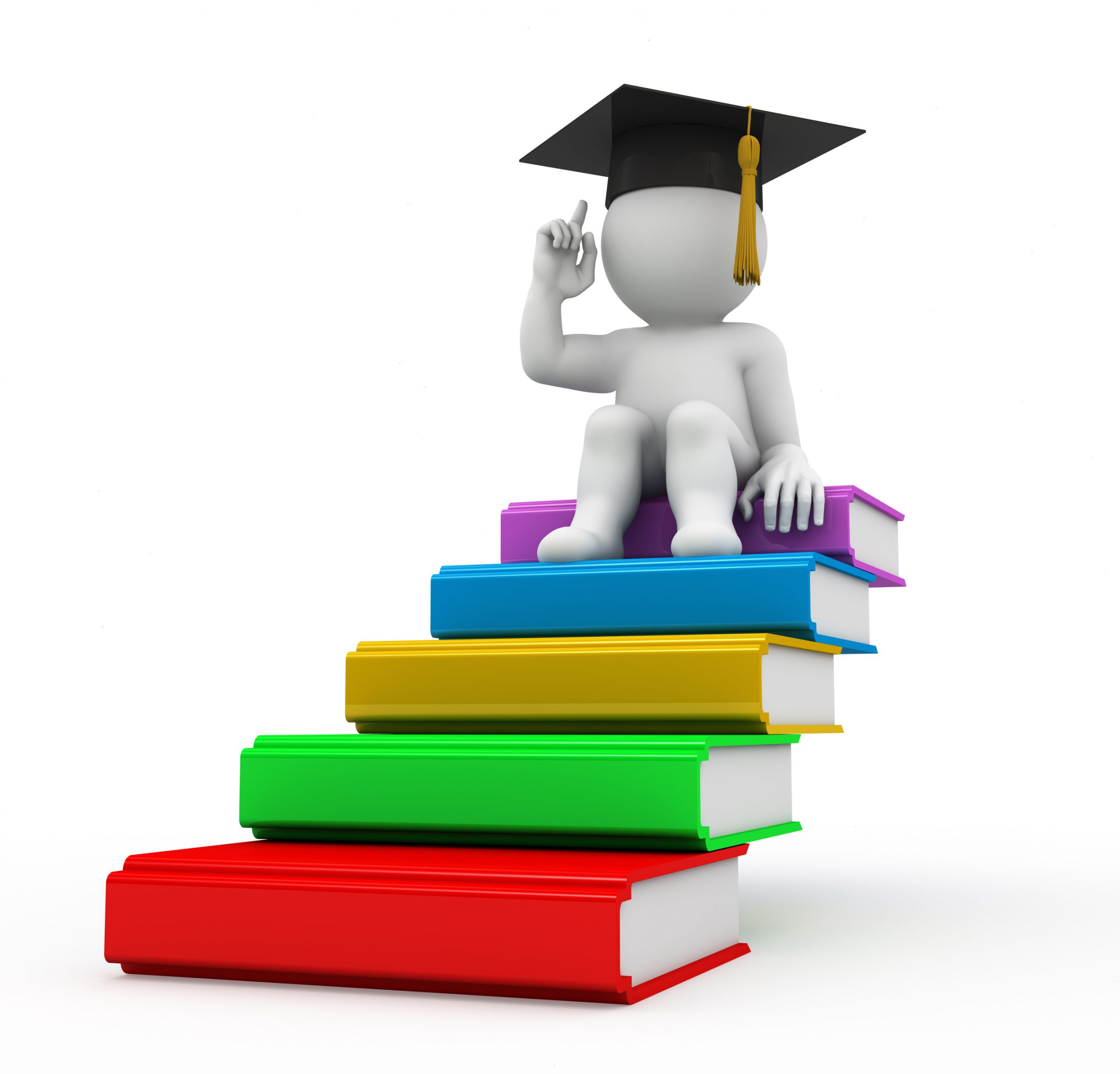 WHAT IS NUTRITION EDUCATION?
Nutrition education is the process of teaching the science of nutrition to an individual or group. Health professionals have a different role in educating an individual in the clinic, community, or long-term health-care facility. In these settings, the dietician, nutritionist, or nurse serves to assist or enable individuals to incorporate changes in eating patterns and behavior into their lives. The major focus of this type of nutrition is not knowledge and facts, but rather the development of permanent behavioral changes. This is the art of nutrition education – breaking down a large body of knowledge into small, individual components that are represented to a patient or client at a rate and level, at which they are able to absorb and use the information. Effective education is making nutrition information digestible and usable in an everyday setting.
Nutrition Education is a set of learning experiences designed to assist in healthy eating choices and other nutrition-related behavior. It includes any combination of educational strategies, accompanied by environmental supports, designed to facilitate voluntary adoption of food choices and other food and nutrition-related behaviors conducive to health and well-being. Nutrition education is delivered through multiple venues and involves activities at the individual, community, and policy levels.
Nutrition education promotes healthy-eating and exercise behaviors. The work of nutrition educators takes place in colleges, universities and schools, government agencies, cooperative extension, communications and public relations firms, the food industry, voluntary and service organizations and with other reliable places of nutrition and health education information. Nutrition education is a mechanism to enhance awareness, as a means to self-efficacy, surrounding the trigger of healthy behaviors.
Nutrition education is a critical component of most major health promotion and disease prevention programs. Research indicates that behavioral change is directly related to the amount of nutrition education received. Nutrition Education involves the communication of nutrition-related information that will equip individuals, families, and communities to make healthful food choices. The media remain the primary source of nutrition information in the United States. Thus, nutrition education also focuses on discriminating between credible and noncredible sources of nutrition information. Nutrition messages and programs must be culturally relevant and specific to the target group. Registered dietitians are the professionals who are specifically trained to deliver information on food and nutrition.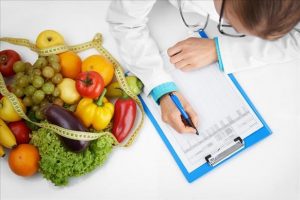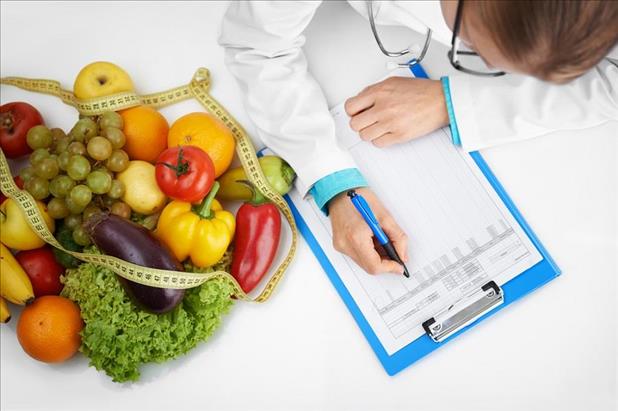 Medifit Medical Academy provides whole package of
General Diet & Nutrition

Sports Nutrition

Supplementation &

Clinical Supplementation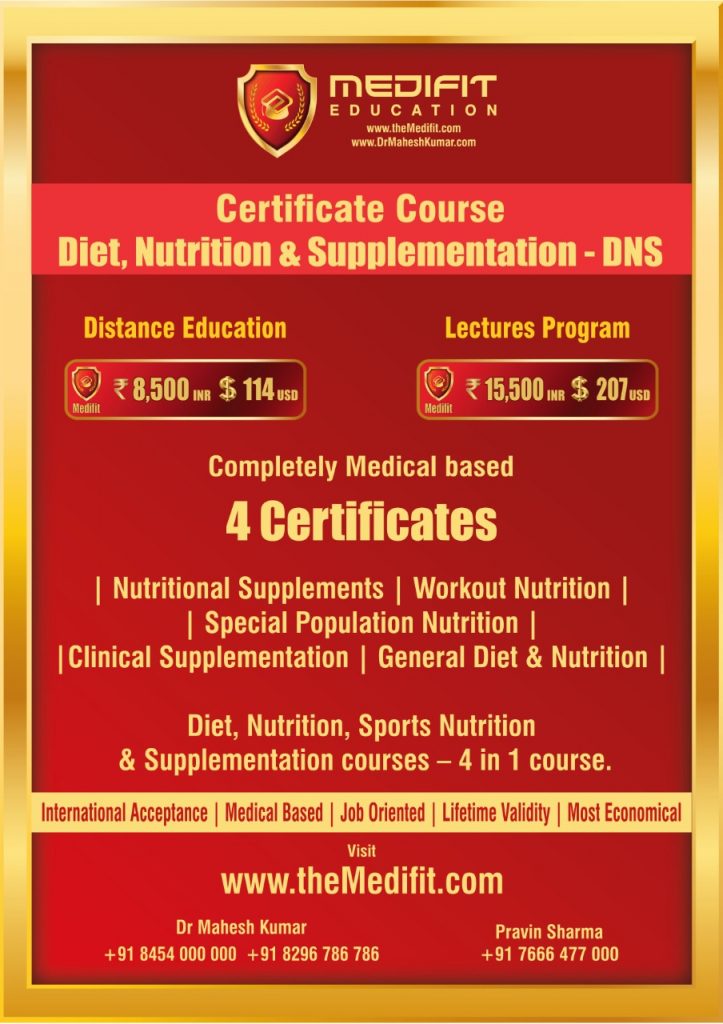 Distance Education mode and Lectures Program, both available
Distance Education – 8,500 INR $114 USD ( 4 Certificates)

Personal Lectures – 15,500 INR $207 USD

( 4

Certificates)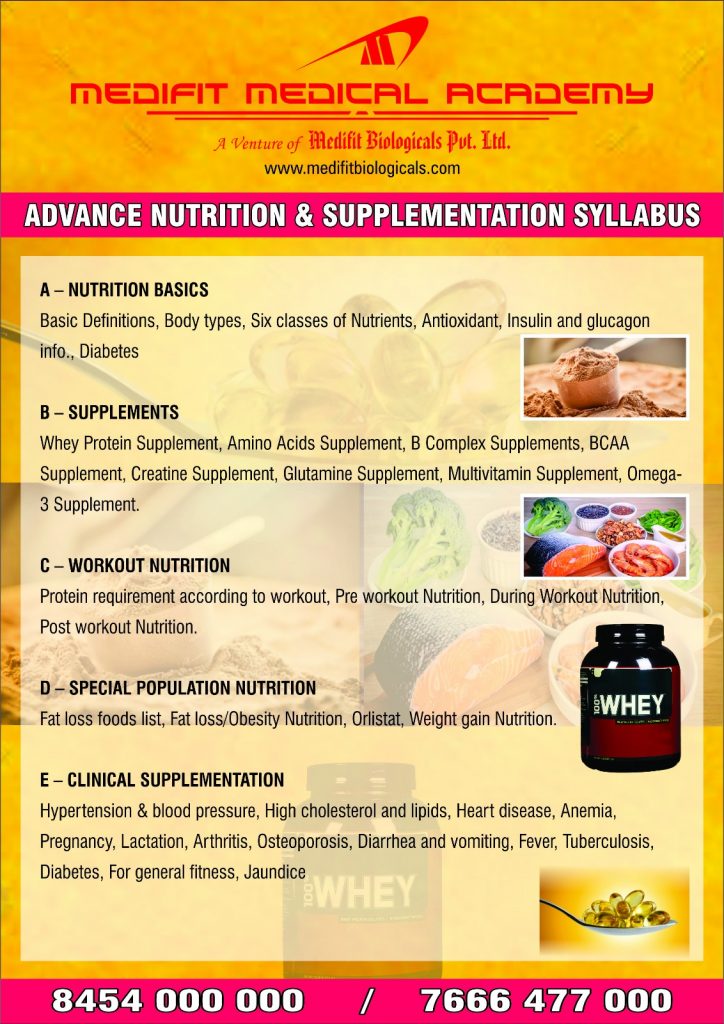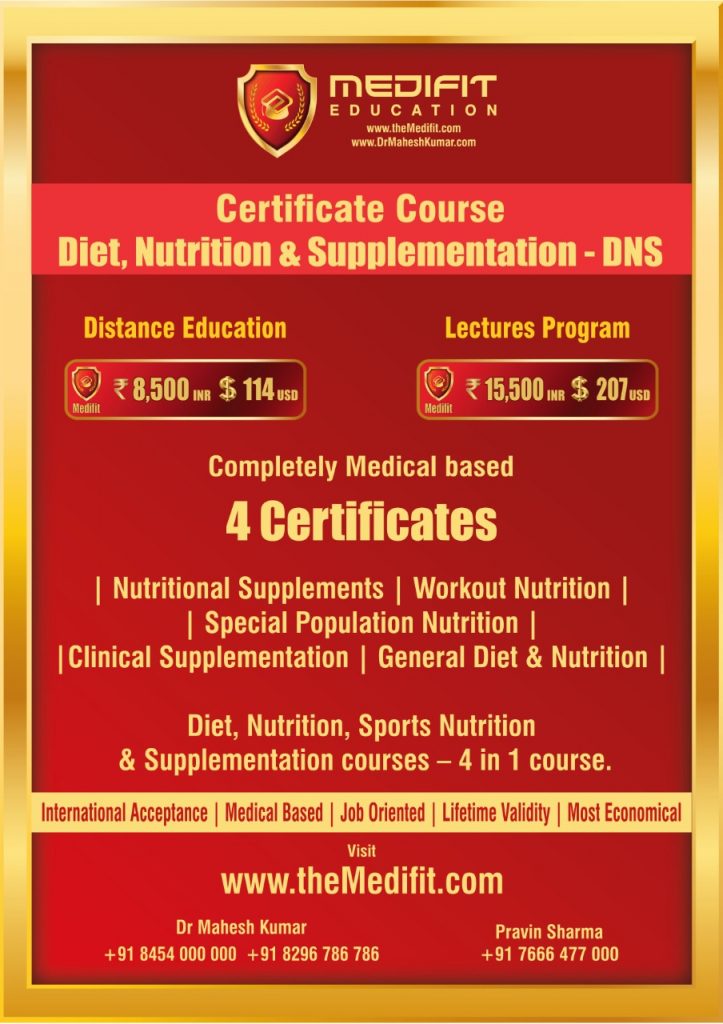 Distance Education mode and Lectures Program, both available
Distance Education – 8,500 INR $114 USD ( 4 Certificates)

Personal Lectures – 15,500 INR $207 USD

( 4

Certificates)
4 CERTIFICATES:
4 Lifetime Validity certificates will be issued. No need to renew the certificates every 2 or 3 years.
Following 4 Certificates are issued for Supplementation course
Advance Diet & Nutrition
Sports Nutrition
Advance Nutritional Supplementation
Clinical Nutrition
A Certification Course speaks about the skills and talents of an individual in his professional subject area. It provides him official and public recognition and good employment opportunities. It gives a solid foundation to his career thereby helping him to make quick progress and reach new heights in his career.
IMPORTANCE OF MEDIFIT CERTIFICATES
The curriculum of Medifit Certificate courses is designed in such a way that it includes all practical skills to be used at the work place. When an individual has a prior knowledge of his subject area it helps him to perform much more confidently and efficiently at workplace.
Medifit Certificate courses provide in-depth knowledge of the underlying technology needed to perform a task efficiently
Medifit Certificate courses are job focused and provide a wide range of skills to an individual so that he can perform well when dealing with complex projects, vendors and multiplatform environment. Thus helps in enhancing the confidence level of an individual.
Medifit Certificate Courses provides training on various aspects of subject and guides them to utilise them effectively into their work environments. This assures employers about the capabilities of an employee that he can successfully complete a job.
Medifit Certificate courses provides detailed knowledge and skills required to perform real-world job responsibilities.
When you do a Medifit Certificate Course you acquire the necessary skills helping you to stay competitive.
Having a prior knowledge of the job responsibilities provided by Medifit Certificate courses helps an individual to easily adapt to the work environment and quickly advance in his career.